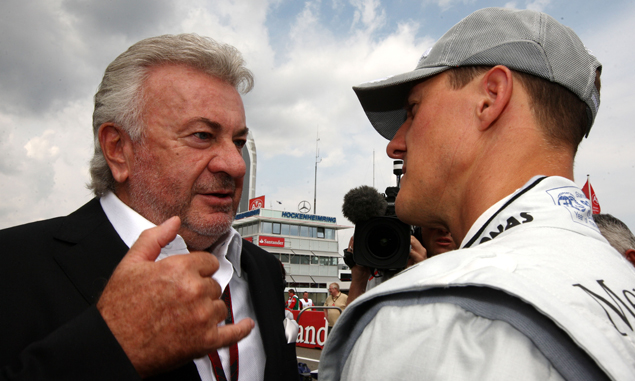 Willi Weber, the man who managed Michael Schumacher's career in F1, says that he begged the seven-time world champion not to return to the sport in 2010.
From his debut in 1991 to his last year with Ferrari in 2006, Schumacher's career at the pinnacle of motorsport had yielded 91 wins.
The great German had been enjoying a leisurely three-year retreat when he was tempted out of retirement by Mercedes at the end of 2009. But long-time friend and manager Willi Weber saw the return as the wrong move.
"I summoned him and said 'Please don't do it. You can only lose'," remembered Weber, speaking to German newspaper Abendzeitung.
"He was a seven time world champion with nothing to prove. But he really wanted to drive. I thought it's fine that he drives, but it will be without me."
As Schumacher went against Weber's advice, the two men subsequently parted ways, at least with regard to their business dealings as they remained in close contact despite the disagreement.
"We still had a contract until 2014, but I just didn't want to go around the world anymore," added the German, who has often lamented the extreme privacy surrounding his former protégé's health, as imposed by the Schumacher family.
"I am a person who sees that everything in life has its time. And what Michael and I did in almost 20 years, that was our F1 time.
"You cannot repeat that or bring the past back to life. We separated as friends and then spoke hundreds of times on the phone or together for coffee or dinner."
Michael Schumacher's 50th birthday, celebrated on January 3rd, will be marked by a special exhibition hosted by the Ferrari Museum in Maranello.
Gallery: The beautiful wives and girlfriends of F1 drivers
Keep up to date with all the F1 news via Facebook and Twitter