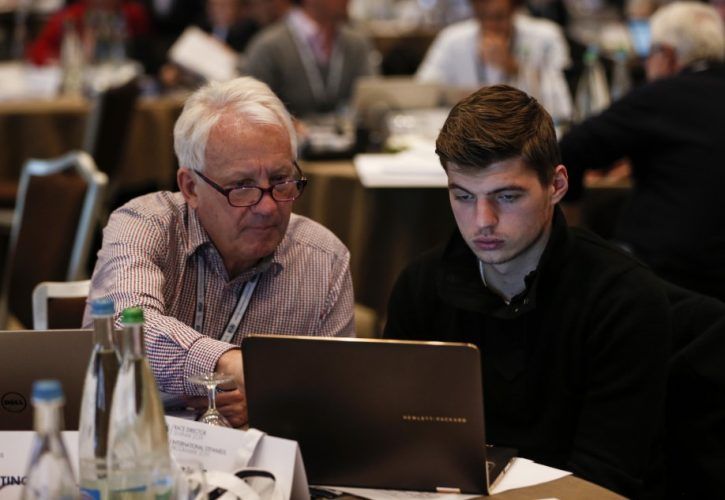 Max Verstappen undertook the second of his two-day public service duties with the FIA on Saturday, attending an International Stewards Programme in Geneva.
The Red Bull driver's presence in Switzerland was a result of an FIA penalty handed to the Dutchman for his post-race conduct at the Brazilian Grand Prix last November, when Verstappen lashed out at Esteban Ocon in Parc Fermé after the two had clashed during the race.
Verstappen was subsequently sanctioned with two days of public service, the first of which he assumed earlier this year at the Marrakesh ePrix where he spent a day as an observer with the event's stewards.
In Geneva, the 21-year-old had an opportunity to meet and interact with stewards from various motorsport disciplines and participate in a discussion involving a competitors' panel that included BMW motorsport boss Jens Marquart and Would Touring Car Champion Andy Priaulx.
The various groups debated practical aspects of stewarding, such as decision-making procedures, issuing results, dealing with penalties and appeals and relevant course of actions involving race incidents.
"We are doing our job on the track, trying to get the best out of the race, and it's clear that the stewards are doing their job to find the best way to reach a fair decision," Verstappen said, commenting on his day.
"It's been a good lesson for me and I've learned a lot, both in my day in Marrakesh, which I really enjoyed and which gave me a good understanding of the stewards, and now here.
"I think it's also good to be a part of this event."
Gallery: The beautiful wives and girlfriends of F1 drivers
Keep up to date with all the F1 news via Facebook and Twitter