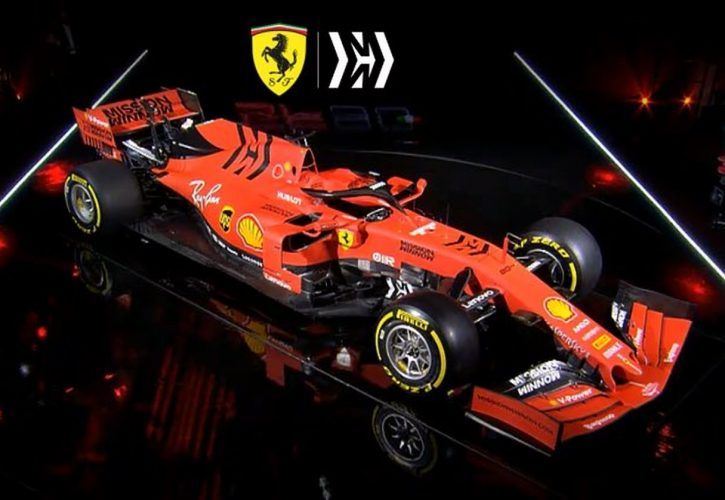 Ferrari unveiled its 2019 Prancing Horse on Friday in Maranello, a car which has been denominated as the SF90 in reference to the creation of the Scuderia by Enzo Ferrari in 1929.
Ferrari's 2019-spec car - which will be raced by four-time world champion Sebastian Vettel and new recruit Charles Leclerc - sports a distinctive matte red tone livery this year, with a dark grey "Mission Winnow" logo emblazoned on its rear bodywork.
Another note-worthy characteristic, and a more important one, is the SF90's front wing which, like Alfa Romeo's aero design, has a profile that drops off in the outboard area of the wing.
"The car embodies the latest state of the art technology, reflects the new regulations for the coming season and is the fruit of the combined enormous work and talent of everyone in the Scuderia," said Ferrari CEO Louis Camilleri.
"This year is an important one for we celebrate our 90th anniversary as the Scuderia Ferrari was born in Modena in 1929.
"It's an important milestone as we continue to be inspired and guided by the vision of our founder Enzo Ferrari.
"We fully understand as a team we carry the hopes, expectation and pride of an entire nation and millions of fans across the world. It's a responsibility we gladly accept. Last season was our best in the last 10 years, yet we fell short of our objectives.
"Such a setback is never easy to swallow, but I assure you we look ahead with strong commitment and determination."
New Ferrari team principal Mattia Binotto - who replaces Maurizio Arrivabene at the helm of the Scuderia - took to the stage during the presentation to say that his team was involved in "very intense, hard work" ahead of the 2019 season.
"We are all focused and very excited to start," he added.
Will it all amount to the title finally coming back to the House of Maranello? Let's see what pre-season testing throws the Scuderia's way...
Gallery: The beautiful wives and girlfriends of F1 drivers
Keep up to date with all the F1 news via Facebook and Twitter