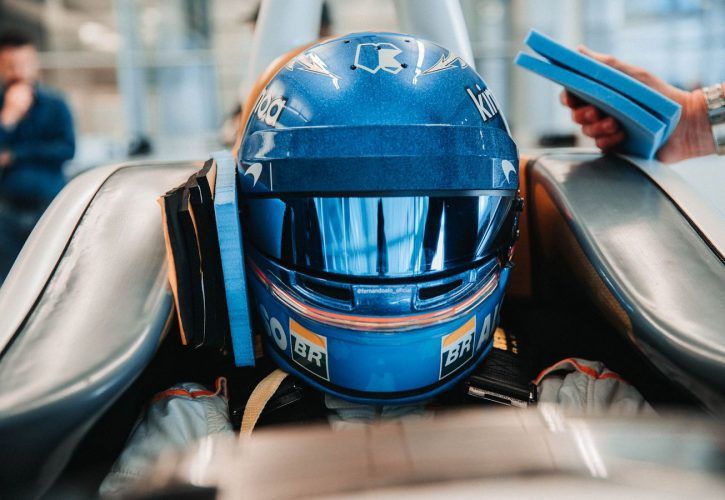 The countdown has started for McLaren Racing and Fernando Alonso's 2019 Indy 500 bid, with the pair entering the thick of their preparations.
Alonso returns to the Brickyard this year for the second time, having taken part in "the greatest spectacle in racing" in 2017 as part of his Triple Crown endeavor.
To tackle Indy once again, McLaren has set up a dedicated engineering entity at Woking, and last week Alonso visited his crew to undergo his seat fitting.
Racing at Indy for over two hours at speeds in excess of 230mph means that comfort is paramount for a driver.
"In Formula 1 the seat is built so that it can be extracted from the car with the driver in it after an accident, and it's basically a hard carbon-fibre shell," says Liam Dance, Fernando's number one mechanic.
"The cockpit of an IndyCar is a lot bigger, and it's got more padding, so the seat itself is actually foam rather than carbon.
"Since the car is set up for going around an oval – high speeds, and all left-hand turns – the padding on the right-hand side is very important to get right, particularly around the head."
IndyCar and F1 seat fitting follow a similar process, with the driver adjusting his position in a very large beanbag that its then filled with resin that sets the foam beads.
For F1 cars the moulding from the driver is digitally scanned, and the composites department then use that scan to build a carbonfibre shell.
For IndyCar the foam moulding is trimmed and covered in fabric to be fitted into the cockpit.
"With both types of cockpit you get your pedal position and your seat belts set according to the driver's preference and to make sure they can see out properly," says Dance.
"Then with Fernando in the IndyCar we paid a lot of attention to optimising the padding and giving him different options depending on how much support his head needs in the race.
"We also had to include padding for his legs, because every part of him will be being pushed towards the right-hand side," says Dance.
In the video below, go behind the scenes and check out Alonso's morning at McLaren as he gets comfortable in his new office space.
Gallery: The beautiful wives and girlfriends of F1 drivers
Keep up to date with all the F1 news via Facebook and Twitter