Scenic Baku is in large part all about top speed, thanks to the track's 2.2-kimometer flat out run from Turn 16 to Turn 1.
For all the talk since the start of the season about the velocity of Ferrari's SF90 in a straight line, one would believe that the Scuderia's 2019 contender would be in a league of its own with regard to top speed in Baku.
Not so, as bragging rights for the fastest car in a straight line in Azerbaijan goes to McLaren, with Carlos Sainz rushing through the speed trap in qualifying at 323.9 km/h.
Oddly, Sainz's team mate Lando Norris who outpaced the Spaniard on Saturday was among the slowest runners in quali, clocking in between the desperately slow overall Williams drivers!
Whether Sainz benefitted from an outrageous tow or whether Norris was running a ton more downforce than his team mate on his MCL34 is unknown, but the relative comparison is interesting.
Regardless, McLaren's talented rookie was surely working overtime yesterday in Baku's tight and twisty sections.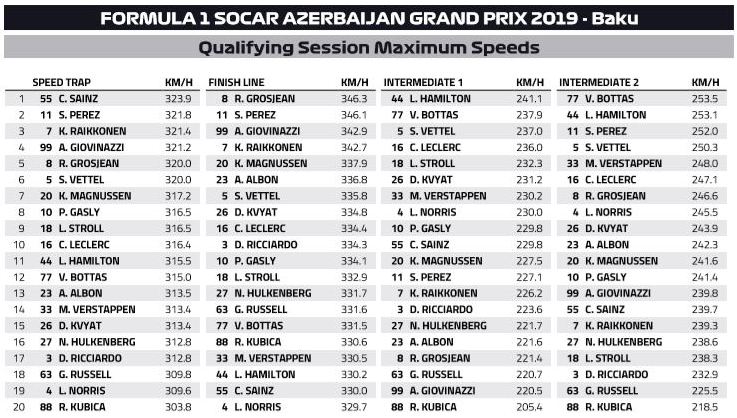 Alfa Romeo's Kimi Raikkonen and Antonio Giovinazzi were the fastest Ferrari-powered runners while Mercedes' Valtteri Bottas and Lewis Hamilton, who will line up on the front row this afternoon, were well down the order in the speed trap readings, which tells us all we need to know about the good balance of their W10 around Baku.
Similarly, Ferrari's top speed numbers clearly indicate that, as intended, the Scuderia has put much more downforce onto its SF90.
Will that help the Italian outfit in its quest to finally defeat Mercedes? Check back this afternoon.
Gallery: The beautiful wives and girlfriends of F1 drivers
Keep up to date with all the F1 news via Facebook and Twitter