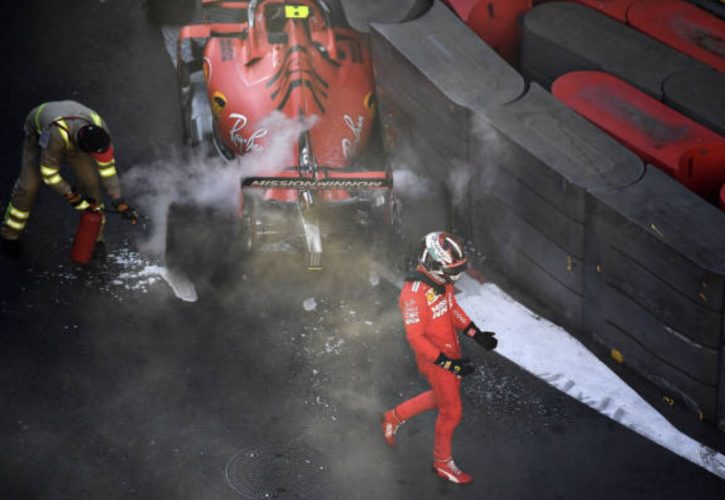 Nico Rosberg says Ferrari was ill-advised to put Charles Leclerc on medium tyres in Q2, a decision that led to the Monegasque's costly crash according to the 2016 world champion.
Leclerc looked like a sure candidate for pole in Baku after running ahead of the field since the start of the race weekend on Friday.
But half-way into the second segment of qualifying, the Scuderia charger lost it at the treacherous Turn 8, the corner that had claimed Williams' Robert Kubica just minutes earlier.
Leclerc clouted the wall on the outside and stepped out of his car considerably dejected with himself.
"They just completely threw it away again in qualifying. It's unreal how they manage to do it every single time," said Rosberg in a Vlog on Youtube.
"Leclerc was on for a definite pole position, he was really on it all weekend."
The German made clear that in his opinion, Ferrari's over-zealous strategy was largely responsible for the painful mishap.
"I don't even blame it on him, I would blame it on the team because in Q2 they decided they're going to be even smarter now Ferrari and put on the harder tyre.
"Because they thought 'If we start the race on the harder tyre, that's going to give us even more benefits because we're so fast anyway'.
"It's like overconfidence and it went just completely pear-shaped from that moment on.
"I was sitting on the sofa, shaking my head, like 'what are they doing now,'. Come on, not on a street circuit, don't mess about like that. The drivers need rhythm and everything.
Just another painful reminder that Baku takes no prisoners. #happenstothebest @Charles_Leclerc pic.twitter.com/aRax2i1t6e

— F1i (@F1icom) April 27, 2019
"Sure thing, what happened afterwards, Charles Leclerc was in the wall, with his medium tyre locking up because of the lack of grip."
Rosberg lamented the fact that Leclerc's set-back deprived everyone of a good Mercedes-Ferrari battle, at least at the start of Sunday's race.
"For me they just completely threw it away there, just threw away all chances for Leclerc to be on pole.
"And that's terrible, really disappointing, because all of us want to see Ferrari do a bit of a comeback to really push Mercedes to the limit. But they just totally failed."
Gallery: The beautiful wives and girlfriends of F1 drivers
Keep up to date with all the F1 news via Facebook and Twitter