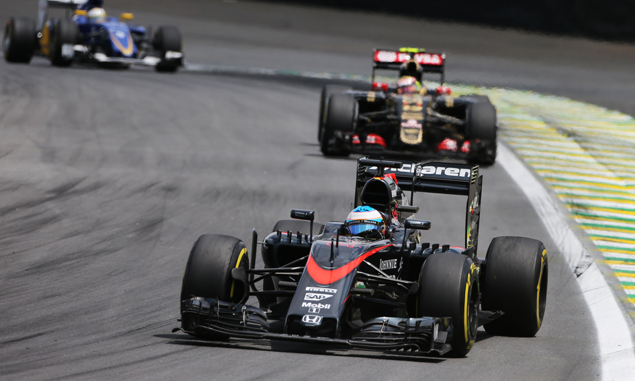 Fernando Alonso says his Honda-powered MP4-30 felt "a bit strange" during the Brazilian Grand Prix, and admits that he is looking forward to the winter break.
Following another series of reliability setbacks, the Spaniard had to change his power unit twice at Interlagos, which resulted with a 35-place grid penalty. Not that it mattered a great deal since Alonso was already due to start last after being sidelined in Q1.
The double world champion spent his entire afternoon circulating at the back of the field with team-mate Jenson Button, eventually crossing the line in 16th (which became 15th after Felipe Massa's exclusion).
"Finishing the race was the first priority after some retirements," Alonso said. "The car was not working 100 percent from the beginning with different power in different gears, so that was a bit strange to drive sometimes! But at least we finished and hopefully we take some data, for next year especially.
Pressed to disclose more details about his discomfort in the car, the 34-year-old added:
"It [had already] happened in a couple of practice sessions but we had fixed it. We fitted a new engine and we didn't have any laps to set it up, so maybe that's normal.
"At least we finished the race and hopefully we analyse, especially on the chassis side, what the best way is to move forward."
Alonso looked quite chirpy all weekend long, taking the problems in his stride and winning the Internet when he decided to sunbathe under the Brazilian sun by the track and then climb onto the podium with Button.
"Outside the track and outside the car, it's always good fun. The team has a very good atmosphere and I'm enjoying time. Obviously when the green light is on it's not much fun to be that slow but we try to improve as soon as we can."
And when asked whether he was looking forward to the end of the current season, Alonso replied:
"Definitely. Definitely some holidays and then some work to do with the team to prepare next year in a better way."
REPORT: Rosberg keeps Hamilton at bay to win in Brazil
AS IT HAPPENED: Brazilian Grand Prix
Use the red tabs on either side of the screen to scroll through more Formula One news and features
Click here for the Podium gallery from the Brazilian Grand Prix
Keep up to date with all the F1 news via Facebook and Twitter