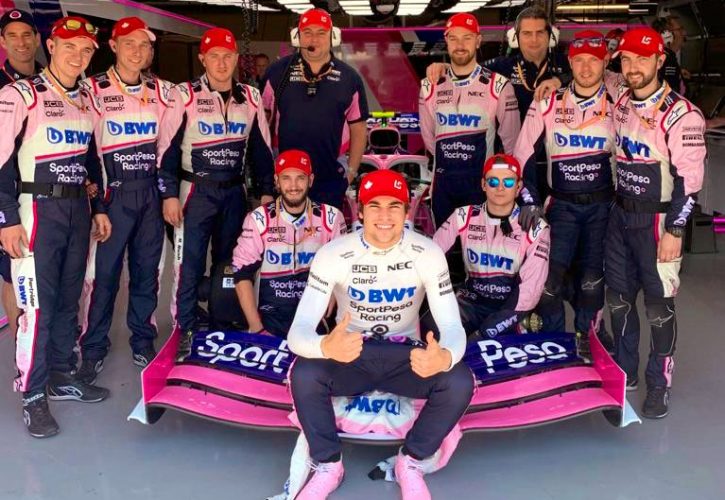 Racing Point's Lance Stroll put in a spirited drive into the points in front of his home crowd on Sunday, hailing his Canadian Grand Prix as one of his best performances yet in F1.
Stroll launched his race from a lowly P17 on the grid but delivered one of his signature opening laps to move up to 14th.
The Sport Pesa Racing Point charger ran a flawless 45-lap stint on hard tyres that pushed him into the top-ten from where he held his own after switching to the medium compound.
The end result was a well-deserved ninth-place finish on home turf that revived memories of Stroll's maiden championship points garnered in Montreal in 2017 with Williams.
"It really brings back some good memories, it was a very similar story today," an ecstatic Stroll told Sky F1's Johnny Herbert.
"We started 17th, just like back in 2017, and picked them off one by one and finished P9. It was a well-fought race, we nailed the strategy, that was key, starting on the hard tyre, going long.
"It was really the key to our race today and we managed it perfectly. I was able to take that tyre really really long into the race and make some bold moves which was also key to our race.
"Passing Giovinazzi, I went down the inside of Perez into the hairpin, in front of my home fans. I felt the energy out there and thought 'I'm just going to send it down the inside'.
"I pulled it off then made it stick around the outside of Sainz at the chicane with a couple laps to go to grab that extra point.
"It makes it that much sweeter that we really had to work for it today."
Asked by Herbert whether Sunday's impeccable driver was perhaps his best ever in F1, the 20-year-old said his performance was definitely among his finest.
"There were some good ones last year but no one saw them from where we were in the Williams," Stroll joked.
"Every race is unique in its own way, but this one is definitely up there with some of my best. I'm going to celebrate in style tonight."
Beyond his own strong showing, the Canadian paid tribute to his team for the hard work it had accomplished on the back of his FP3 engine issues.
"The lead up to the race wasn't easy – losing the power unit yesterday and taking a performance hit by going back to the old engine – but we kept pushing.
"It was a really fun race: I put all my emotions on the table today and loved every minute of it.
"The team really deserved this: they've put in some long hours this week and it's a boost for us all.
"It has been an awesome week with great support from the crowd. I'm going to remember this one for a while."
Gallery: The beautiful wives and girlfriends of F1 drivers
Keep up to date with all the F1 news via Facebook and Twitter