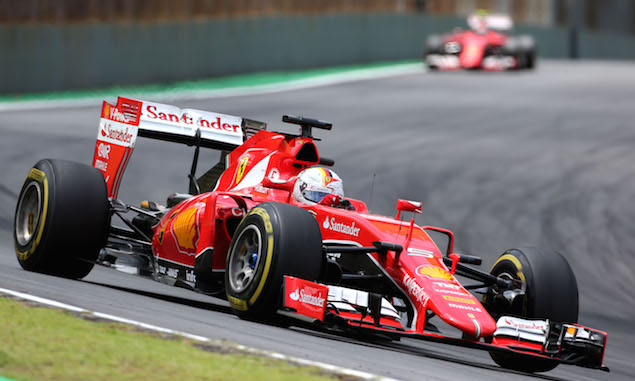 Sebastian Vettel says F1's fans are losing out on better racing due to the politics within the sport.
Lewis Hamilton voiced discontent at being unable to overtake team-mate Nico Rosberg during the Brazilian Grand Prix, saying changes are required to the cars to allow drivers to follow each other more closely. Vettel believes there is an obvious solution by improving the tyres to deliver more mechanical grip, but says the politics within F1 make it difficult to make such a change.
"Naturally if you are only a tenth or two quicker then it's very difficult to pass – whereas if you're a second quicker it becomes more easy," Vettel said. "I think in general what we need to follow another car closer in medium speed, high speed, slow speed corners is more mechanical grip.
"So shift the percentage between aero – mechanical more towards more mechanical. How to do that? I think we need better tyres that allow us to go quicker. Drivers want to be quicker. So, I think the solution is very simple.
"Unfortunately the sport is very political with different interests from different people. I think it's fair enough to give whoever tyre manufacturer, in this case Pirelli, the chance to improve their tyres – but we need to run. But since the responsible people, the teams, whoever, can't agree on something, it will be difficult to make progress.
"Unfortunately the people who literally are paying for that are sitting on the grandstands. So, we would love to go quicker. I think they would love us to go quicker and have more excitement but bottom line is, if you look ten years ago, 20 years ago, it wasn't like there was a lot more overtaking in the race. So it's also not a disaster what we see now."
Mercedes has voiced concerns over Pirelli's ability to produce tyres which can handle significantly higher cornering speeds which are planned for 2017, a move which McLaren's Eric Boullier described as a "pretty desperate" attempt to maintain its current advantage.
Brazilian Grand Prix - Driver ratings
Use the red tabs on either side of the screen to scroll through more Formula One news and features
Click here for a more light-hearted look at the Brazilian Grand Prix
Keep up to date with all the F1 news via Facebook and Twitter