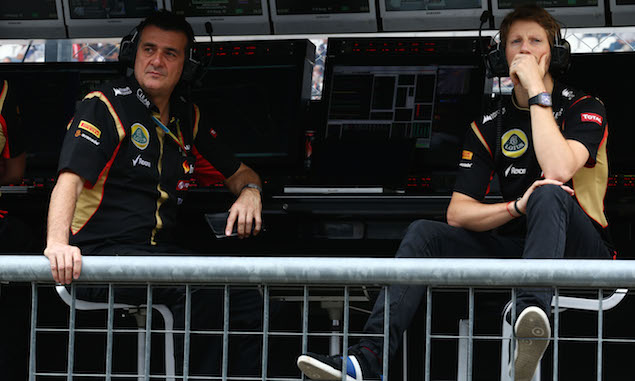 Lotus deputy team principal Federico Gastaldi says next year's switch to the new Haas F1 Team will be good for Romain Grosjean.
The Frenchman will leave Lotus at the end of the year to move to Haas, marking the first time he has changed teams in his F1 career having only raced for the Enstone-based team under its guises of Lotus and formerly Renault.
Ahead of what Grosjean admits will be an "emotional" last race in Abu Dhabi this weekend, Gastaldi says comments from former F1 drivers who made moves after long spells with one team have helped him understand Grosjean's reasons for leaving.
"I think he will still be part of Enstone and we are going to stay in touch," Gastaldi told F1i. "For him it is a different step in his career and of course it will be emotional for everyone but we will still see him. I only wish him well because he deserves it and he has done a fantastic job for the team with the tools that we gave him so far.
"I was talking to some retired drivers recently and they all said it's good for the drivers to have other options, other experiences and Romain has been working for Enstone since he moved from GP2 so I think it's good for him. Probably it will be emotional for him but he will be around so we will see him."
Grosjean has started 82 races so far for Lotus and Renault, finishing twice on two occasions and third a further eight times.
Use the red tabs on either side of the screen to scroll through more Formula One news and features
Click here for a more light-hearted look at the Brazilian Grand Prix
Keep up to date with all the F1 news via Facebook and Twitter