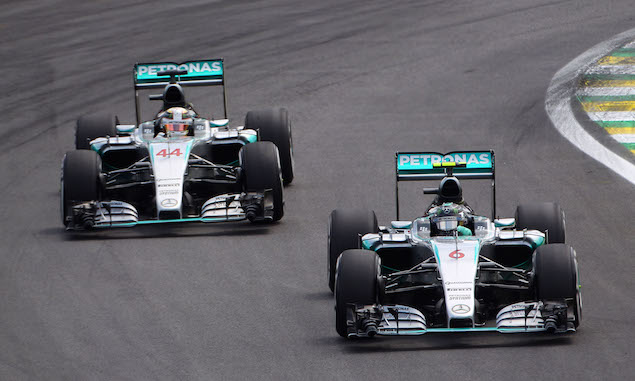 Nico Rosberg and Lewis Hamilton hold differing opinions over the reasons for Rosberg's recent upturn in form.
While Hamilton wrapped up the drivers' championship in Austin three races ago, Rosberg has been on pole position at the last five rounds and converted each of the last two in to victory. The improved performances on Saturdays have been especially impressive, with Rosberg having previously scored just one pole position this season as Hamilton dominated by taking 11 of the first 12 on offer.
Asked if he thinks an increase in tyre pressures at the Italian Grand Prix could have had an an impact on his recent run of qualifying form, Rosberg replied: "No, I don't.
"I don't think so. I think I've just raised my game. That's it."
However, while Rosberg claims it is a result of personal improvement, Hamilton says there is a different external factor which could have swung things in his team-mate's favour, having not been on pole position himself since Monza.
"Well, from Singapore onwards there's been a change to the car – but whether or not that's made a difference, I don't know really. We'll have to see. But it has changed since Singapore."
And while Rosberg says he had the measure of his team-mate in Brazil last weekend, the pair also disagree over who was the quicker driver.
"Contrary to what Nico was saying, there was one point where I was all over him but I just couldn't get by," Hamilton said. "I just couldn't get close enough in that last second and I did have the fastest lap, so I obviously had the pace."
Use the red tabs on either side of the screen to scroll through more Formula One news and features
Click here for a more light-hearted look at the Brazilian Grand Prix
Keep up to date with all the F1 news via Facebook and Twitter