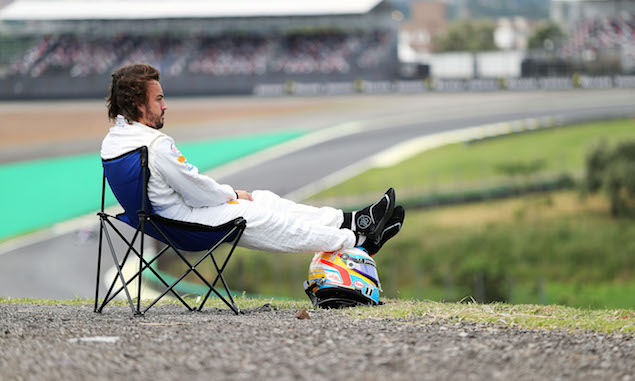 Fernando Alonso says McLaren will be "fighting as hard as we can to the end" of the final race of the season in Abu Dhabi.
The return of Honda as power unit supplier has seen McLaren face a hugely challenging season, with reliability issues and a lack of performance regularly seeing the team unable to challenge for points. Despite previously admitting he is eager for the season to end in order to enable McLaren and Honda to focus on making significant changes over the winter, Alonso says the team will not let its focus drop in the final race.
"The Abu Dhabi Grand Prix weekend represents many things for us at McLaren-Honda," Alonso said. "[It is] the end of a challenging season and a significant learning curve; the opportunity to collect as much information as possible and continue our learning; and the start of the winter period where we are all focussed on working incredibly hard on next year's package, and seeing more progress and results from our efforts throughout this year.
"Yas Marina is always an exciting racetrack to drive on – it's one of those circuits that changes its character all the way through the lap, which makes it a lot of fun for the drivers. The spectacle of a twilight race, and feeling the atmosphere change as the light fades during the sessions over the course of the weekend is pretty incredible. Abu Dhabi is a fantastic place to end the season and we are hoping to take what we can from the weekend and enjoy it as much as possible.
"After a few difficult weekends, we will of course be pushing hard to finish the year on a positive note, but the whole team knows the work we have to do over the winter, and there's huge commitment from everyone already to start seeing results. Every session this weekend will be an opportunity to learn more and take that development into next year's car, so as usual we will continue fighting as hard as we can to the end."
Alonso goes in to the final race of the season five points behind Jenson Button in the drivers' championship, having never scored fewer points in a season than a team-mate in his F1 career.
Use the red tabs on either side of the screen to scroll through more Formula One news and features
Click here for a more light-hearted look at the Brazilian Grand Prix
Keep up to date with all the F1 news via Facebook and Twitter