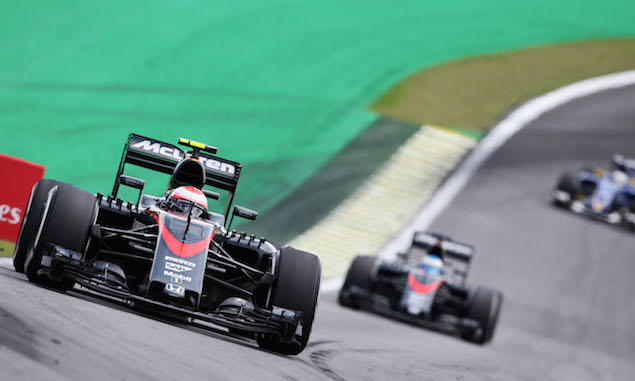 McLaren will bring further updates to its car for the season-ending Abu Dhabi Grand Prix as it looks to learn ahead of 2016.
Much has been made of the difficulties for McLaren this season, with a large portion stemming from the Honda power unit's lack of performance and reliability. However, McLaren acknowledges it still does not boast the best car aerodynamically either, and Boullier says there will be more new parts being tested throughout the final race weekend to attempt to learn more for next season.
"Although it is the last race of the season, our development has not stopped, and we are still bringing new parts and design elements to the car for the final grand prix," Boullier said. "Our development is constant and we place huge importance on learning at every opportunity.
"All of our efforts this weekend will be beneficial to next year's car, and it's essential that we maximise the final sessions of the year, not only to end the season on a high, but to use the invaluable information we can glean from them and channel it into tangible progress over the winter period."
And despite the underwhelming results throughout 2015, Boullier says the hard work from both the team and engine supplier Honda has not gone unnoticed.
"It's important to thank each and every member of the McLaren-Honda team: those on the road, at the McLaren Technology Centre, in Sakura and in Milton Keynes, for their hard work, enthusiasm and dedication all year. Our energy and commitment will continue relentlessly over the winter, with our shared goal firmly in our minds: to win. Equally, thank you to our Partners, both longstanding and new, who understand our vision and the immense work going on behind the scenes to assure us of more positive results to come.
"Last but certainly not least, I'd like to express huge gratitude to our loyal fans, who have demonstrated unwavering support through challenging times, and share our optimism for a successful future ahead. We look forward to an exciting weekend against the stunning scenery of Yas Marina, and the start of an exciting next phase for McLaren-Honda."
Technical feature: Exclusive pictures of the Ferrari power unit
Use the red tabs on either side of the screen to scroll through more Formula One news and features
Click here for a more light-hearted look at the Brazilian Grand Prix
Keep up to date with all the F1 news via Facebook and Twitter