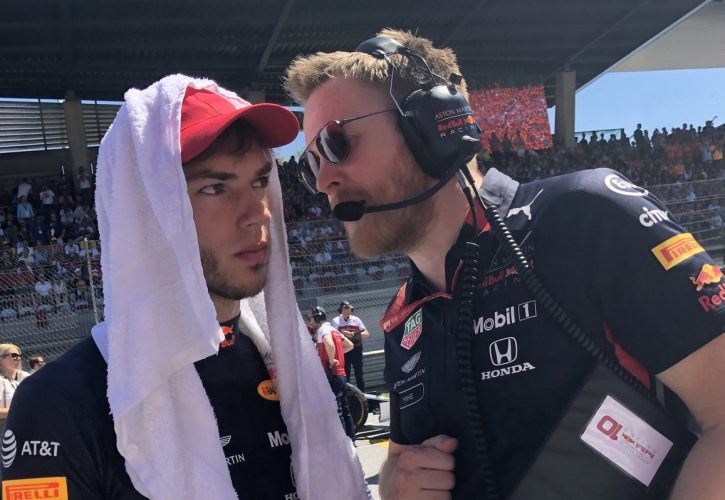 Another race, another disappointment for Red Bull's Pierre Gasly who suffered the embarrassment of being lapped by teammate Max Verstappen in Sunday's Austrian Grand Prix.
Gasly launched his race from P8 on the grid and found himself right on the heels of Verstappen following the Dutchman's botched start.
However, that was as good as it would get for the Frenchman who gradually watched his teammate race into the distance while he stagnated in eighth before losing ground during a poorly managed second stint.
"I struggled with the traffic at the beginning and spent quite a lot of time there," said Gasly, who desperately needs to get himself in gear if he is to avoid the wrath of Red Bull motorsport boss Helmut Marko.
"It kinda was a snowball effect with the time we spent behind, the hotter everything gets and just struggled with that, struggled to get past Kimi [Raikkonen] and the cars around," he added.
"After the pit stop, I pushed too hard and destroyed the front tyres after the first few laps.
"And after that, just struggled with blistering. It wasn't the best management on my side, so it makes the afternoon quite tough."
Gasly was asked after the race and after another under-performance if he was perhaps putting too much pressure on himself. But the 23-year-old denied that was the case.
"It's not like I put so much pressure on myself, it's more like finding the direction that really suits me," he contended.
"For sure, Max feels really comfortable with that car which is not really the case for me. Some weekends we find a good direction, some weekends it's a bit more complicated.
"There are a lot of things I can take from him, with that car I can extract more.
"We'll keep working because I'm a competitive guy and I'm not happy at the moment with my performance. We'll keep pushing until I get happier."
Gallery: The beautiful wives and girlfriends of F1 drivers
Keep up to date with all the F1 news via Facebook and Twitter