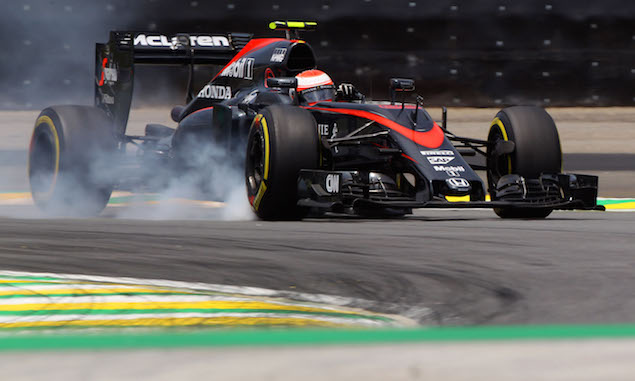 Jenson Button is targeting a top ten finish in the Abu Dhabi Grand Prix to give McLaren an extra boost heading in to the winter.
Abu Dhabi marks the end of a tough season for McLaren, with Button's team-mate Fernando Alonso saying the team will continue fighting until the end of the last race. With McLaren bringing further updates to the final round, Button says it would be a fitting reward for the team to be able to celebrate a strong result ahead of a crucial off-season.
"If we can push for some points in Abu Dhabi, it'll definitely be a boost for the team to end the season, and will reward all the efforts from every single member of the team over the past year," Button said.
"We already have our heads firmly on the development push over winter, so anything positive we can take from this weekend will help us start our next chapter together with even more energy. Our motivation is as strong as ever."
And while Button is wary the Yas Marina Circuit could still highlight some of the MP4-30's weaknesses, he believes McLaren can deliver a better performance than in Brazil where he was 12 seconds off the points.
"It's great to be heading back to Yas Marina, not least because of the excitement and buzz that the fans bring and the incredible setting Abu Dhabi provides for a racing venue, but also because it is the end of a long and challenging year for the whole team. Although we've had some difficult weekends over the past few races, the mood back at MTC is still very upbeat, and everyone is already working hard for next year.
"It's testament to the strength of our team that we continue to come out fighting every race weekend, and Abu Dhabi will be exactly the same. Yas Marina is a tricky circuit with lots of different elements coming together: sweeping faster sections, two long back straights, and a slower-speed tight, twisty infield section at the end of the lap. It makes set-up a challenge and particularly for our package it's not well suited, but we're hopeful of a more positive performance there than we found at Interlagos."
Technical feature: Exclusive pictures of the Ferrari power unit
Use the red tabs on either side of the screen to scroll through more Formula One news and features
Click here for a more light-hearted look at the Brazilian Grand Prix
Keep up to date with all the F1 news via Facebook and Twitter