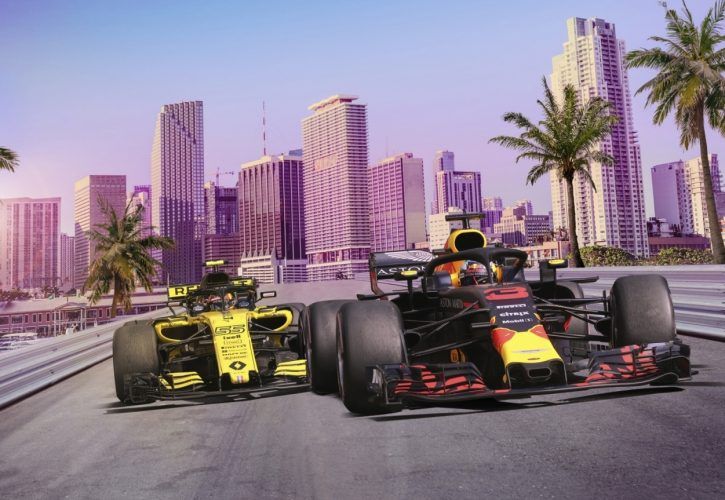 Liberty Media remains hopeful of bringing F1 to the sunny streets of Miami in the future, although the search for the right location within Florida's Magic City continues.
In its bid to put a second race in the US on Formula 1's calendar, the sport's commercial right holder identified Miami as the perfect destination city, but initial plans to stage a race around the Bayfront Park area fell through following stark opposition from local residents.
Another site located in Miami Gardens and the Hard Rock Stadium - the home of the Miami Dolphins - was also pinpointed as a potential venue, but it's unclear how those plans are panning out, if at all.
Regardless of where F1 could race in Miami, the city firmly remains on F1's agenda.
"We are taking a long-term view on it," F1's global director of promoters and business relations, Chloe Targett-Adams told ESPN.
"Miami's definitely a city we want to race in. It's electric, it's an awesome destination, it's a hugely vibrant, dynamic, great city to add to the Formula 1 calendar.
"It's a complex project getting a street race up and running when you've got multiple stakeholders and multiple community interests."
For its Miami endeavor, F1 is partnering with local billionaire Stephen Ross who owns the Miami Dolphins NFL team.
Chloe Targett-Adams underscores the paramount necessity for an F1 event to add value to an area or community and avoid local disturbance as much as possible.
"You have to go about it in a way that minimises disruption to businesses and residents, quite rightly, but also that adds to that area," Targett-Addams said.
"It seemed that when you're looking at something on a long-term basis that's quite a challenge to resolve.
"We are trying to work out how we can work out a race to Miami in locations that work, whereas there might still be a challenge or complex to work through but ultimately can deliver on a great race and is additive to the wider community and stakeholders."
Gallery: The beautiful wives and girlfriends of F1 drivers
Keep up to date with all the F1 news via Facebook and Twitter