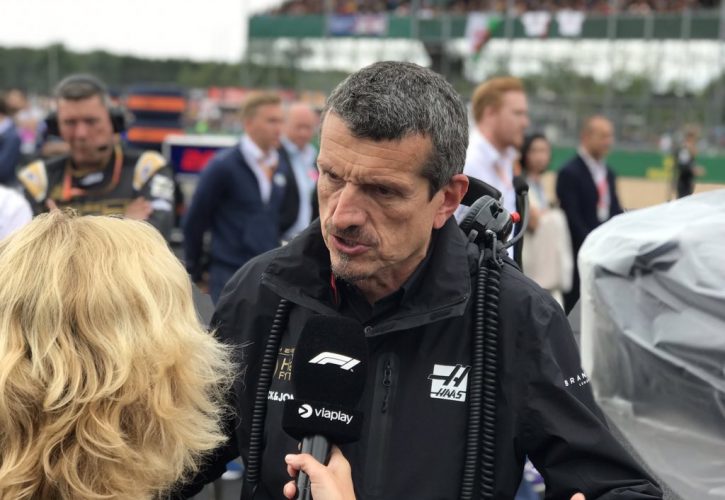 Guenther Steiner cut a gloomy figure on Sunday afternoon at Silverstone, the Haas boss railing against his drivers following their opening lap contact that destroyed the team's race.
Romain Grosjean and Kevin Magnussen were jockeying for position at the start when the Frenchman brushed his teammate on the exit of Turn 5 as the pair head on to the Wellington straight.
The contact appeared harmless at first glance but resulted in punctures for both men. Magnussen pitted on lap 1 and Grosjean a lap later, but the damage sustained by both cars would eventually prove terminal and send the duo into retirement shortly after.
Predictably, Steiner was unimpressed, insisting his drivers' antics had ruined the team's afternoon and thwarted an opportunity for Haas to further evaluate the different specifications Haas was running at Silverstone in a bid to solve its car's chronic issues.
"Both of them are in trouble." A very angry Steiner said.
"It's not acceptable. I was pretty clear after Barcelona what not to do. We're in a difficult enough situation trying to get the car back on track and they've got the chance where it seems like our long runs are OK.
"Then they crash into each other at Turn 5, and that's not acceptable."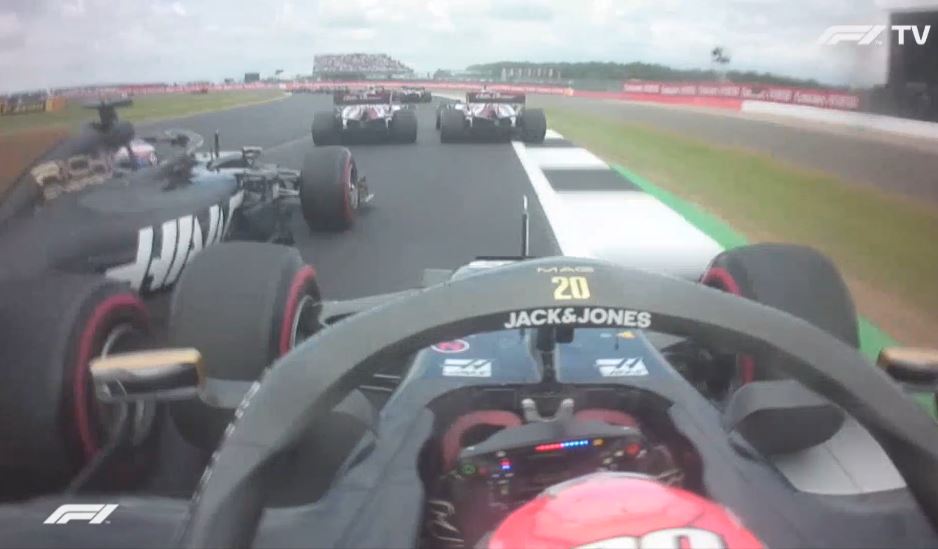 Asked what his drivers had to say for themselves, Steiner said he had done th talking in the team's post-race briefing.
"They didn't speak. I told them. To explain something like this, you don't need a lot of time.
"You can say a lot in only a few words and I'm obviously disappointed to have to say it. Everybody is working hard to get out of the hole we are in.
"The drivers are given a chance to score points or, at least, learn something and they do this. I don't need an explanation."
Looking ahead, Steiner admitted he would need to find a solution to keep his drivers from running into each other in the future.
"I don't have a solution," he admitted. "I need to sleep over it, I need to wind down and come up with a solution. Coming up with a solution is my job.
"Everyone here works for the team, and I'm the first one to work double the time and I want everyone to be steering the same direction.
"When I saw the clash happen, I couldn't believe it. We had two cars running into each other, and it's a disaster.
"The clear instruction was even if someone was to give up [track position], give it up and we'll sort something out during the race. We discussed this after Barcelona."
"We said that if you give up a position and we know you're in the right, then we'll give it back to you."
As consequential as the incident was for Haas, the on-track clash was labeled a racing incident by most observers.
"I am not jumping to who is to blame. I didn't like the move but it's the team thing. They aren't happy now but we're not either – we lost two cars," added the Italian.
"I'm going to sit down during the week with a clear head and think about what to do, because it's not acceptable."
Gallery: The beautiful wives and girlfriends of F1 drivers
Keep up to date with all the F1 news via Facebook and Twitter