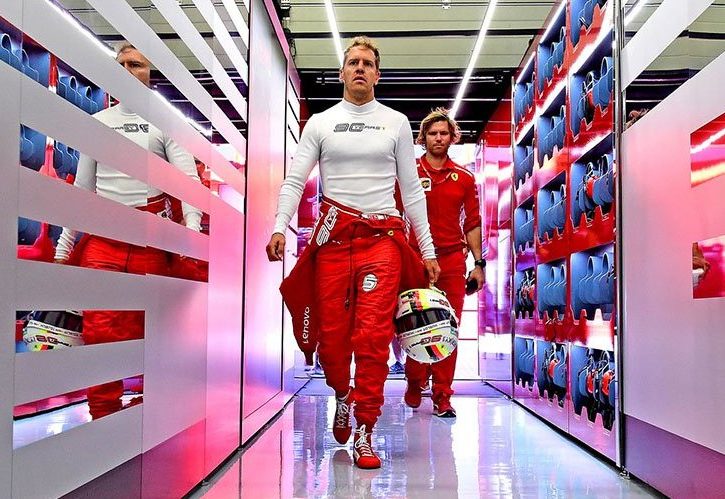 Sebastian Vettel fears that Mercedes could run away with this weekend's German Grand Prix.
"Obviously I want to win, but I'm realistic," Vettel said. "Coming here I don't feel we are the favourites - but I do feel we have a chance.
"We have a chance to do well, that's the objective," he continued. "It's a special place for me. Close to where I'm from. Close to family and friends.
"I won't have to go very far to be in a place where I can celebrate," he added.
"You should never say never, and I'll give everything as always, but realistically Mercedes is the big favourite," the Ferrari driver told Auto Bild this week.
Last year Vettel appeared to have victory in the bag when a rare mistake from the four-time world champion saw him spin out of the lead of the race with 16 laps to go.
"Obviously, I was very close last year. Let's see how close we can get [to that]," he said, before admitting: "I think we are in a less strong position to start the weekend.
"Then again, in recent races we've felt very strong, both in qualifying and in race pace."
Experts say that the SF90's tendency to understeer is holding Vettel back, especially compared to his team mate Charles Leclerc.
"I am not feeling the rear of the car at the moment," Vettel admitted. "For me that means I am missing confidence."
Leclerc has acknowledged that finding himself only three points behind Vettel in the drivers championship is giving him renewed motivation to push hard to catch his team mate again this weekend.
"It was always going to be a very interesting challenge for me," the Monegasque driver told BBC Sport this week.
"I am at the beginning of my career," he explained. "He is a very experienced driver and to have him by my side is very important.
"I can definitely grow a lot and learn a lot things from him, which I did from the beginning of the season.
"But it is also a great challenge for me to try to beat him, and that's what I am here for. I always want to be the fastest on track and I always try to give absolutely everything to be in front."
At the same time, Leclerc doesn't want to force his hand too soon and get himself into hot water at Maranello.
"As I've said, I am still very early in my racing career and I am pretty sure there is a lot more I can learn and a lot more things I can do better," he said.
"I will focus on these things and hopefully there will be even more turning points in the future."
Gallery: The beautiful wives and girlfriends of F1 drivers
Keep up to date with all the F1 news via Facebook and Twitter