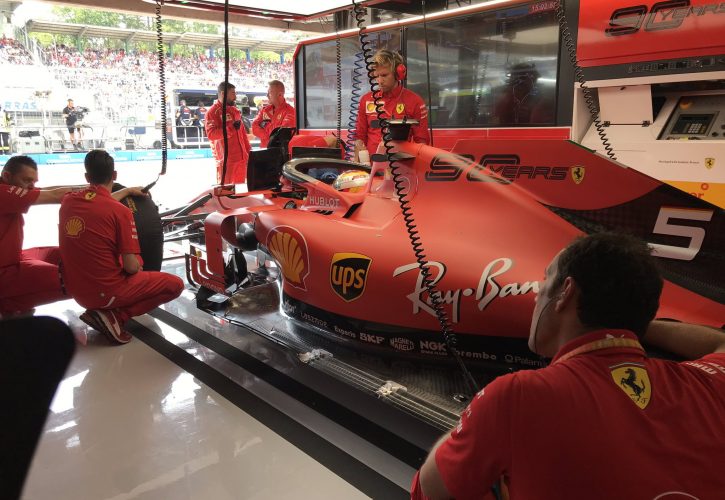 Ferrari's hopes of challenging Mercedes for pole on home ground were set back at the outset when a turbo issue sidelined Sebastian Vettel in Q3.
The Scuderia had put itself in charge of proceedings on Friday and confirmed its ambitions in Saturday's final practice with Charles Leclerc and Vettel topping the timesheet.
However, minutes after the lights went green for the 60-minute grid-defining session, Vettel radioed in during his out-lap to signal a sudden power loss.
Watching the Ferrari mechanics take the engine cover off the German's SF90 was an ominous sign, and the bad news was confirmed shortly when Vettel climbed out of his car and called it a day.
"I don't know what happened, something broke on the turbo and that was game over from there," said the local hero admitted feeling "very bitter".
"Very disappointed as I think the car is very good, we lost out on a big chance but hopefully we'll have a big one coming again tomorrow.
"I'm looking forward to the race, but obviously it would have been nicer to start at the very front rather than the very back but…we'll see what happens."
After Vettel's unexpected demise, the Scuderia pinned all its hopes on Leclerc, and while the Monegasque easily made the Q3 cut, more drama ensued in the Ferrari box as the day went from bad to worse when Leclerc exited his car at the start of the final shootout, leaving its driver stranded in tenth position.
"On my side it was a fuel system problem," Leclerc told Sky F1.
"It's a shame but we'll be trying to understand what happened to not reproduce it. It's a difficult day for the team, I hope it will be a very positive day tomorrow."
Gallery: The beautiful wives and girlfriends of F1 drivers
Keep up to date with all the F1 news via Facebook and Twitter