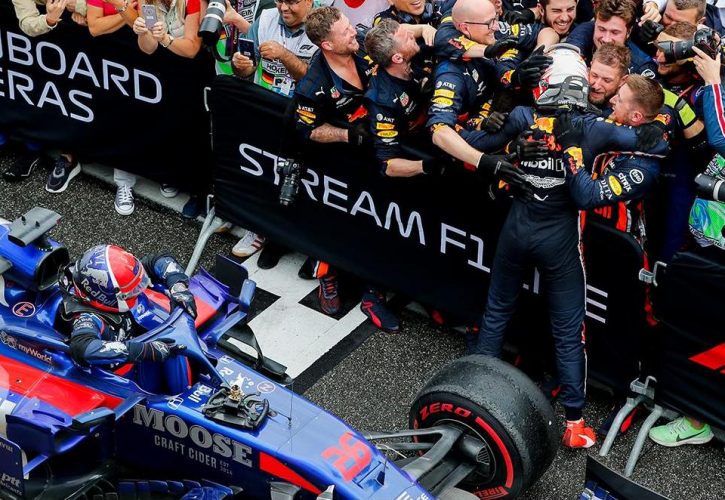 Honda's second win of the season in Germany - delivered once again by Red Bull's Max Verstappen - was an opportunity for the Japanese manufacturer to take a dig at good old Fernando Alonso.
Upon its return to F1 with McLaren in 2015, such was Honda's poor performance that Alonso labeled the beleaguered unit a "GP2 engine", and he did it over the team's radio at the manufacturer's home race in Japan.
That gibe obviously wasn't forgotten by Honda on Sunday afternoon, its Twitter account posting a message that mocked the Spaniard's past put-downs.
He's done it again 💪 Thats GP2 victories in 2019 👌@Max33Verstappen 👏#PoweredByHonda pic.twitter.com/z4yhYhMKG7

— Honda Racing F1 (@HondaRacingF1) July 28, 2019

But Sunday's race also saw a second Honda-powered driver on the podium, with Toro Rosso's Dany Kvyat joining the party.
And it was the first double podium for Honda since 1992, when McLaren's Gerhard Berger and Ayrton Senna finished second and third in Portugal.
"An absolutely fantastic result, securing our second win of the year with Max Verstappen, but this time extra special, with Daniil Kvyat making it two Honda drivers on the podium," said Honda F1 boss Toyoharu Tanabe
"It was a very difficult race, because of the changing conditions between wet and dry and the result is down to the excellent drives from both drivers, spot on strategies from the two teams and great work from both pit crews. Honda really appreciates their efforts.
"After winning with Aston Martin Red Bull Racing already in Austria, it is particularly pleasing to see Red Bull Scuderia Toro Rosso on the podium, as they helped us get back on the right road to success last year.
"We will briefly celebrate on this special day, but immediately focus on next week's race in Hungary."
Gallery: The beautiful wives and girlfriends of F1 drivers
Keep up to date with all the F1 news via Facebook and Twitter