When the time came for Lewis Hamilton to pull out the stops in Sunday's Hungarian Grand Prix, the Mercedes driver was spurred on by an emphatic battle cry delivered by his team over the radio.
Hamilton's attempts to rein in leader Max Verstappen had fallen short in the race's first 49 laps.
Mercedes then opted to bring its driver in for a second pit stop and a switch to the medium compound. It was a risky strategy at a circuit such as the Hungaroring where overtaking is so difficult.
But the opportunity to put Hamilton on fresh rubber without losing he's second-place position was a gamble the Mercedes camp judged as worthwhile.
Still, reeling in the flying Dutchman's Red Bull by overcoming a 20-second deficit in 20 laps required a massive effort from Hamilton, who was himself in doubt of his crew's dicey game plan.
However, Mercedes boss Toto Wolff relied on a few memorable words from the reigning world champion's father, Anthony Hamilton, to spur him on during his frantic pursuit.
"We were very much in doubt because we knew we had to catch up a second a lap," Wolff admitted.
"There was a stage when Max was turning up the engine and he was matching Lewis's pace and when Bono [Hamilton's engineer] told him it was equal times you could almost hear the disbelief in Lewis's voice [as to] why we did the second stop.
"But somehow he put himself back in the right frame of mind, probably we motivated him over the radio.
"One thing his father said to me, there's just one sentence you need: 'You can do it'. And we knew he could do it.
"Even if the plan had said we were running out of laps, we thought that by telling him he was catching him we could help. And that's exactly what happened."
It was a phenomenal effort by Hamilton, but also a remarkable call by the Mercedes pitwall, with chief strategist James Vowles calling the shot.
"It was a brilliant execution by the strategy team," Wolff added.
"We had discussed all variations in the morning and the two-stop seemed uncompetitive.
"But then they reacted in the right way and all the learnings we took from Hockenheim with the radio discipline and the protocol that the strategists in the background would come up with options, and then James Vowles would be evaluating them, and then all of us giving our opinions.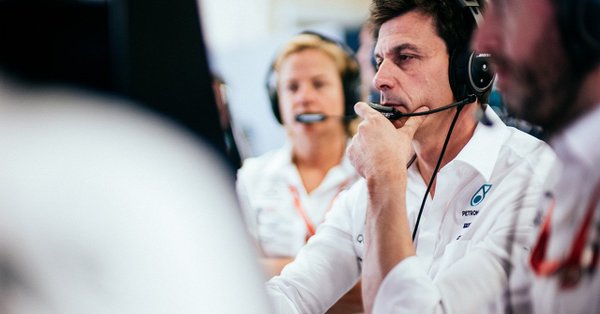 "By this point Lewis was catching up to Max and it looked like he could overtake him on the hard tyre, but we were too marginal on the brakes and we couldn't continue to follow him in that way.
"So, the only option to avoid P2 was to take a risk in the hope that the medium tyre would create an offset.
"At first it didn't seem very good, but from then on the moment Lewis sniffed the opportunity there was no going back."
Gallery: The beautiful wives and girlfriends of F1 drivers
Keep up to date with all the F1 news via Facebook and Twitter