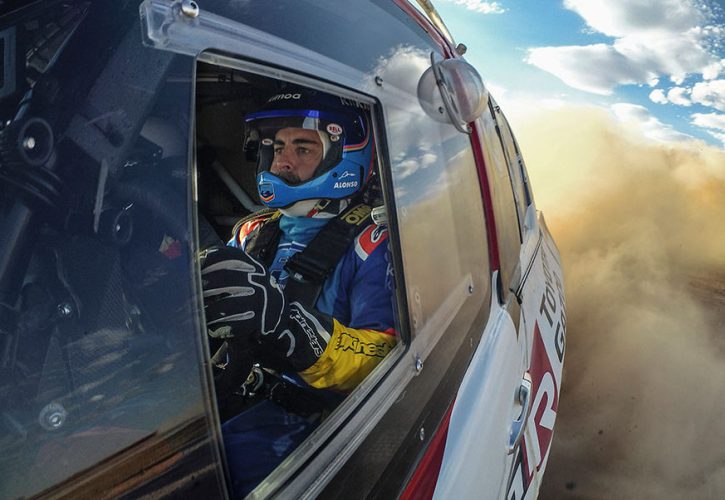 Fernando Alonso will most likely contest the 2020 Dakar rally raid with Toyota Gazoo Racing, with preparations for the legendary event set to kick off next week in Namibia.
The two-time F1 world champion tested a Toyota Hilux for two days in the Kalahari desert back in March, setting in motion a rally raid collaboration between Alonso and the Japanese manufacturer that will follow the pair's successful association in the World Endurance Championship.
"I'm really excited to continue my adventure with Toyota Gazoo Racing," Alonso said.
"Together we have achieved so much since I first drove a Toyota in November 2017, with our two consecutive wins at Le Mans, the World Endurance Championship for the team and a drivers' title with my teammates Sebastien [Buemi] and Kazuki [Nakajima].
"I got a taste of off-road rallying earlier this year and it left me with a good feeling that I want to prolong.
"I knew it would be a totally different experience with a steep learning curve but the Hilux just felt great; it gave me so much confidence so quickly and I was improving loop after loop.
"I'm really looking forward to the next few months of training, getting to know the Hilux and working with the team.
"I've always maintained I want to pursue new challenges in different disciplines and I'm at a great team to do that."
Alonso and Toyota's preparations will start as soon as next week in Namibia with Gazoo South Africa which handles Toyota's Dakar operation.
Additional tests will take place in the coming months in Africa, Europe and the Middle-East while Alonso's preparations will also include a Dakar warm-up participation in the Rally Morocco in early October.
The two-time Le Mans winner's co-driver for the Dakar is expected to be Marc Coma, a five-time winner of the legendary event in the motorcycle category with KTM.
After a decade of exploring South America, the Dakar's 30th edition will journey for the very first time through the landscapes of Saudi Arabia.
The event's trails will begin in Jeddah on January 5th and conclude on January 17th in Al Qiddiya.
Gallery: The beautiful wives and girlfriends of F1 drivers
Keep up to date with all the F1 news via Facebook and Twitter