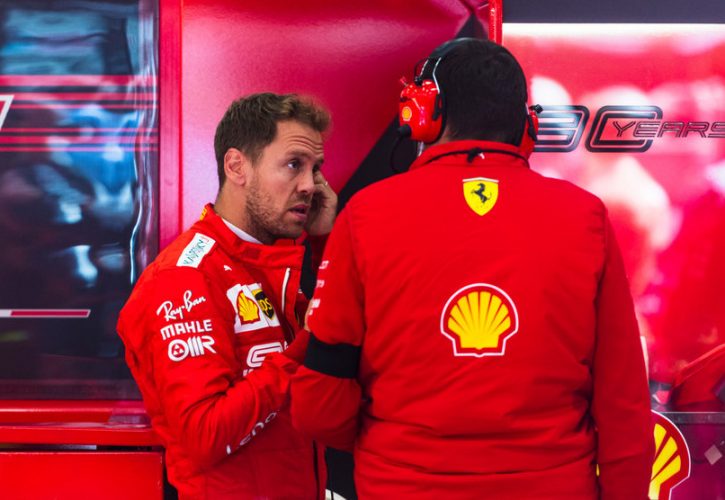 Sebastian Vettel was clueless as to why he was so significantly outpaced by Ferrari teammate Charles Leclerc in last Sunday's Belgian Grand Prix.
From qualifying on Saturday to the checkered flag on race day, Leclerc had a clear upper hand over Vettel.
The German was never a force to be reckoned with and was even forced into a support role during the race, executing an early pit stop for the sole purpose of covering off Mercedes' Lewis Hamilton to help his teammate increase his lead.
A mystified Vettel said he never felt comfortable with a car that was sliding and degrading its tyres much too quickly.
"I didn't have the pace, I didn't feel comfortable with the car," said the four-time world champion. "I was going through the tyres way too quick.
"I was struggling to feel the grip, to stay on top of the tyres, I was sliding too much. It was quite a tough race for me.
"And obviously from that point where we came in quite early it was clear that we won't be there until the end. I guess I was sliding more [than Leclerc] but I don't know why."
Scuderia boss Mattia Binotto was just as puzzled as Vettel by the under-performance, the Swiss underscoring his driver's usually optimal tyre management abilities.
"Certainly, Sebastian suffered more from degradation this weekend, both on Friday and then in the race," he said. "It's certainly down to the set-up as well.
"Normally Seb is very good in managing tyres, especially in the first laps, to use the tyres later in the stint.
"So it's something we will take care to try to understand and analyse. And if we may learn it we will try to improve ourselves for the future. But so far, I have no answer."
Keep up to date with all the F1 news via Facebook and Twitter