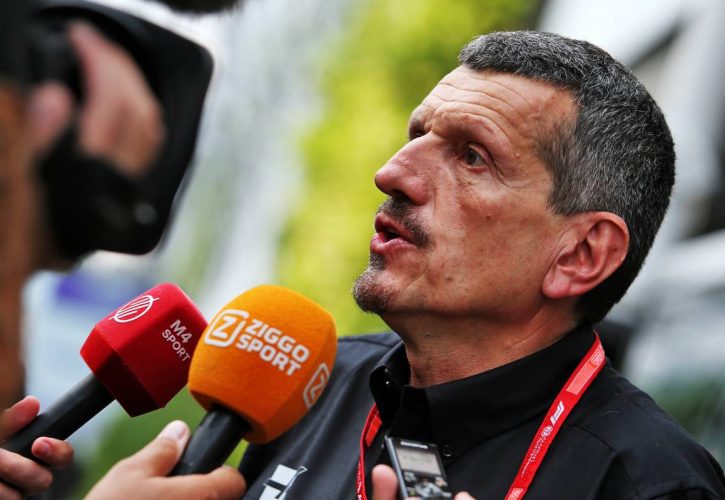 Haas F1 team principal Guenther Steiner has indicated that he is in favour of trialling some radical new race weekend formats next season.
"Sometimes you have to experiment because how do you otherwise find out if it works or not, if you don't try it?" Steiner told Motorsport.com this week.
The commercial rights holders of Formula 1 have been pushing for one-off experiments in 2020 to try out new concepts such as a reverse-grid qualifying race.
The trials would not last the entire season, but would instead be taken for a 'test run' at select events.
However the response from many interested parties had been less than enthusiastic, with drivers in particular speaking out against the proposals in no uncertain terms.
But Steiner says he is more open to trying things out, viewing 2020 as a useful 'gap year' in the sport before formal new sporting rules and regulations come into effect the following year.
"We can always experiment, you know?" he said. "I don't think we do anything wrong, because at least you do an experiment, a lot of people watch it and give an opinion. Then you can decide if the experiment works or not."
Asked about whether such experiments presented a risk to the sport, Steiner admitted that there was always that possibility.
"Every change involves a risk, nobody wants change," he acknowledged. "If we do simulations we end up [with] 'We're not going to do it', because there is a risk involved.
"[But] I support it," he insisted. "With the caveat that if it doesn't work, let's be honest about it and don't continue to do it."
Steiner made it clear that backing a program of format experiments next season was not the same as expressing support for the controversial reverse-grid proposal.
"I personally don't feel a need for it," he said of the controversial way of setting the starting order for the race. "But FOM wants to test it, we are part of this thing. It's not about us, it's about the sport.
"They are the experts and promoter, it's their show," he pointed out. "So we need to try to help them to make the show better in my opinion."
Steiner added that the reason he supported some format trials in 2020 was so that the sport had options to hand in case the new rules coming into effect the following season didn't fully achieve the objective of closing up the top three teams and the rest of the cara on the grid.
"I understand that they would like to race all 20 [cars close together], same as we want, everyone's working on that idea," he said.
But in his view the only way of pulling that off quickly was to tighten the agreed $175 million budget cap even further, which would not be acceptable to many squads.
"[That] is very difficult to do for the big teams," he said. "Therefore we need to go through a phase where we still have a little bit of - hopefully less than we have got now - gap between the top three and the rest."
Gallery: The beautiful wives and girlfriends of F1 drivers
Keep up to date with all the F1 news via Facebook and Twitter