The McLaren team is putting its efforts in the remaining five races of the season into securing sixth place in the drivers championship for Carlos Sainz.
The Spanish driver is currently three points behind Toro Rosso's Pierre Gasly, who began the season racing for Red Bull before was swapped out in favour of Alexander Albon who is still 17 points in arrears.
McLaren is hoping that gives them a realistic chance of Sainz becoming the only driver from outside the big three teams to finish the season in the top six in the standings.
The last time a driver not from Mercedes, Ferrari or Red Bull finished in the top six was in 2015 when Williams clinched fifth and sixth with Valtteri Bottas and Felipe Massa.
"For the drivers championship clearly our target with Carlos is to score P6," said team principal Andreas Seidl.
"There's two main competitors which is Gasly and Albon. Albon is catching up quickly, [but] hopefully we can keep this fight up as long as possible."
Seidl added that Sainz' performance in qualifying and on race day had been "impressive" in his first season with the team, having switched from Renault over the winter.
Seidl said that Sainz had been "a key element" in guiding the development of the MCL34. "Sometimes when you hear him speaking you think he has an engineering degree as well, which is great.
"You could see straight away, the first time I met him, that he has experience already," Seidl added. "He has seen two other teams already in the past which brought him a lot of experience.
"But at the same time he is still young as well. He keeps learning and developing together with us as a team."
There was a troubled transition period for the 25-year-old which saw him with back-to-back retirements in his first two races, and then finishing outside the points in China.
There's also been further disruption since the summer, with retirements in Belgium and Italy followed by a pointless outing in Singapore which has allowed his rivals in the championship to gain ground.
"He was really unlucky in six races so far this year not scoring points. But whenever we gave him the machine to battle it out the track. He's delivering and that's impressive."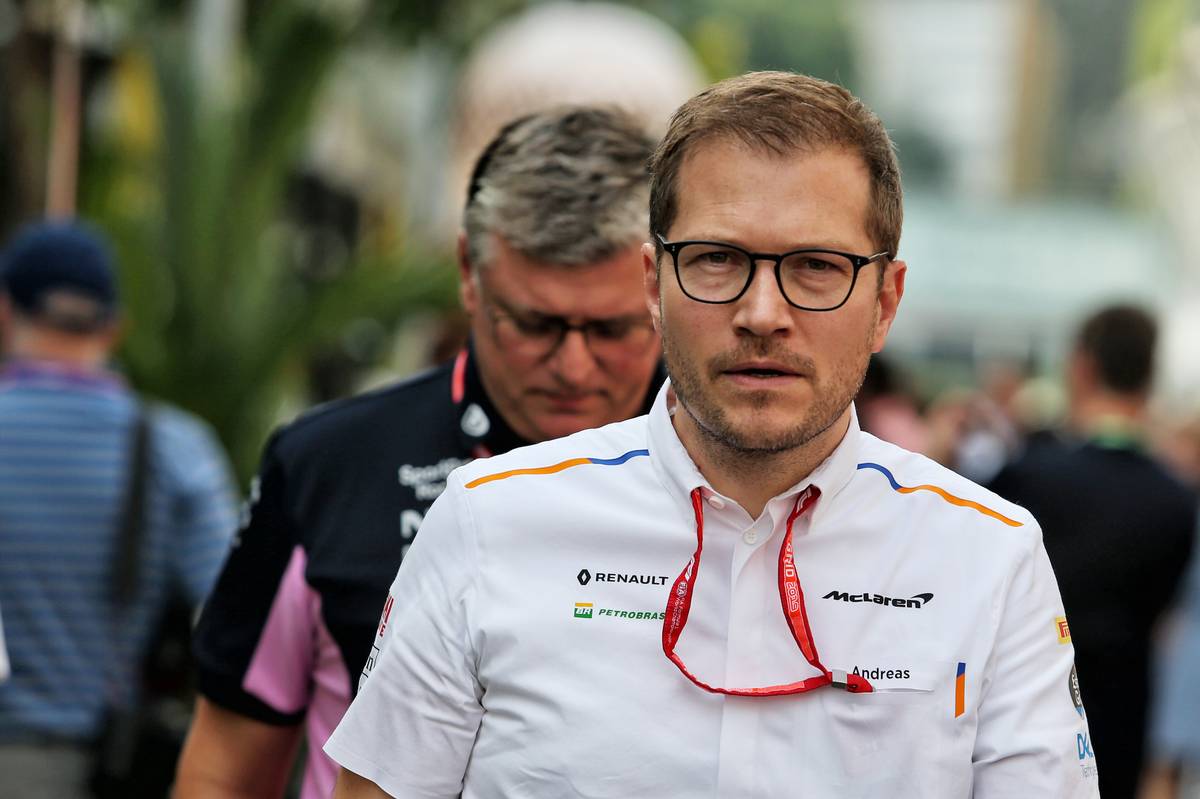 Sainz' rookie team mate Lando Norris is currently in ninth place behind Albon in the drivers standings. However just four points separate Norris and the next five drivers who include Daniel Ricciardo, Nico Hulkenberg and Kimi Raikkonen.
McLaren itself strengthened its grip on fourth place in the constructors championship by taking 12 points in Sochi compared to just one point for their closest rivals Renault.
But Seidl admitted the team is still a long way off challenging the Big Three teams.
"No, definitely not," he admitted then asked whether a challenge in 2021 was realistic, when the team is due to start using Mercedes power units
"I think we need to be realistic. For us, let's say the next target is to make the next step next year.
"The three top teams are not just there because of having more money, they simply do a better job also, and they will keep doing a better job.
"Hopefully we can jump somewhere in terms of performance and lap times between where we are now and the top teams," he added. "That would be a great step forward for next year.
"For us it's important make sure we take the next steps as a team to do simply a better job," he concluded. "If we get everything right on our side, and keep working hard, we hopefully can challenge them at some point."
Gallery: The beautiful wives and girlfriends of F1 drivers
Keep up to date with all the F1 news via Facebook and Twitter