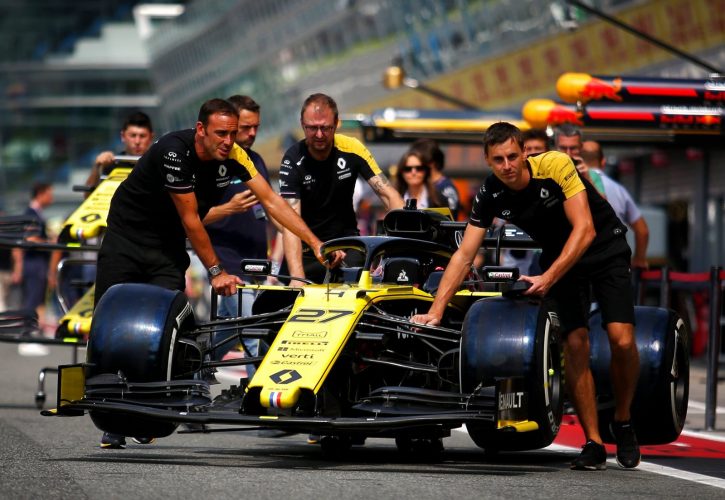 Renault F1 chassis technical director Nick Chester says the French outfit heads to Suzuka with a new front wing in its bags in a bid to improve the downforce and grip of its R.S.19.
Renault has given up on its ambitions of finishing the 2019 season at the top of midfield, although the team is 33 points behind its rival McLaren.
For next weekend's Japanese Grand Prix, Renault will rely on a few "subtle" changes to boost its performance.
"We are bringing a new front wing to Suzuka," Chester reveals.
"We also have a new chassis wing - externally the changes are pretty subtle, but we expect more downforce and grip as a result."
Suzuka is one of Formula 1's most popular venues, thanks to a few of its daunting and amazing corners - like the legendary 130R left-hand sweep or the Degner curves.
Chester gives the lowdown on the Japanese track's challenging layout from a technical perspective.
"The drivers enjoy the circuit as it's a good, old school racing track," says the British engineer.
"Many regard it as one of the best tracks on the calendar. It's very long at 5.807km, with lots of elevation changes, long straights ending in tight chicanes or hairpins and interesting corners.
"It's a challenge to get right, requiring strong front-end grip for Sector 1 with high speed change of direction but with enough stability to give driver confidence.
"It's also a track with high sensitivity to drag and engine power and the choice of rear wing can be a difficult compromise. Off-track it's also pretty popular, the atmosphere is always incredible!
"The Esses in Sector 1 are particularly notorious as the cars sweep through them," adds Chester.
"There's no problem with tyre warm-up and we will use the harder end of the Pirelli tyre compounds, also used at two other high-speed tracks, Silverstone and Barcelona.
"It's quite power sensitive as there are three long periods of long throttle; the straight through 130R, the pit straight and the curve between Spoon and the hairpin.
"It's not very high downforce due to the straights, and also fairly easy on the brakes."
Gallery: The beautiful wives and girlfriends of F1 drivers
Keep up to date with all the F1 news via Facebook and Twitter