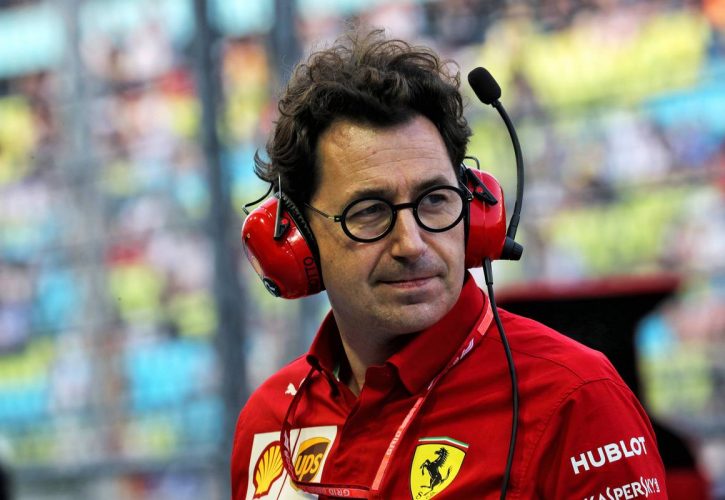 The end of October deadine for Formula 1's 2021 rules is fast approaching, but Ferrari boss Mattia Binotto says many points still need to be addressed.
Formula 1's initial target date for the sport's future regulation platform to be set in stone was June 30, but the sport's chiefs and teams agreed to delay the publication of the long-waited package to refine ideas and indulge in additional consultation.
While F1 director of motorsport Ross Brawn says the core objectives outlined for F1's future blueprint have been defined, deciding and writing the fine print is still an ongoing process.
With just one meeting remaining on the agenda for F1, the FIA and the teams, concerns have emerged that too many dissensions and disagreements remain for a closure on the regs to be signed and sealed by October 31.
"There will be a meeting with the FIA and F1 next week on the 16th which I think will be very important because that's the last one, altogether, before the end of the month when there will be a new vote," Binotto said in Suzuka on Friday.
"I think there are still a lot of open points and discussions are still ongoing so how will be the conclusion of all these discussions, it is very difficult to say at the moment."
The Scuderia boss underlined the painstaking task of lining up all parties' interests to form the best possible compromise.
"There are various interests between teams, between the teams and the F1 and the teams and the FIA," the Swiss added.
"But certainly, as Ferrari, we are intending to play our role, we believe as Ferrari because of what Ferrari represents for F1, we've got a voice, an important voice in the discussions but no doubt that there's still a lot of points to be addressed."
With certain teams holding their ground against the proposed changes, mainly centered around the extensively researched aerodynamic regulations, some of which the teams consider to be too prescriptive, F1 could unilaterally force through its decisions, but at the risk of stumbling upon Ferrari's much decried veto power.
Binotto recently said that it would be "a shame" if the House of Maranello" was forced to resort to its nuclear option and oppose the changes to F1's rules.
In Suzuka, the Scuderia boss reiterated Ferrari's stance. "In terms of the veto, as I said I think last time in Sochi that will really be a shame.
"I don't think that should be the case at all. I think we've got a good and open discussion with the stakeholders at the moment and I'm as well somehow hopeful that we can find the right compromise at the end."
Gallery: The beautiful wives and girlfriends of F1 drivers
Keep up to date with all the F1 news via Facebook and Twitter