Red Bull's Max Verstappen pointed an accusatory finger at Charles Leclerc, insisting the Ferrari driver had punted him out of the Japanese Grand Prix with an "irresponsible" move into Suzuka's Turn 2.
A botched start by poleman Sebastian Vettel allowed both Mercedes drivers and Verstappen to outpace their rivals into the first corner.
But Leclerc appeared to force the issue into Turn 2, the Ferrari understeering and hitting the right flank of Verstappen's Red Bull, spinning the Dutchman to the tail end of the field.
While Leclerc continued his race unabated, save for a pit stop and a front wing change, Verstappen was forced to retire after 14 laps, his RB15 having lost 25% of its downforce as a result of the damage it had sustained.
"We had a really good start for once, that was positive, and then I just stayed on the outside," explained Verstappen.
"I felt like I was in third but then suddenly into Turn 2 Charles just drove into the side of my car.
"From my side I don't think I could have done anything. We all know that you lose downforce behind the car so that is not an excuse, I think he's experienced enough to know that."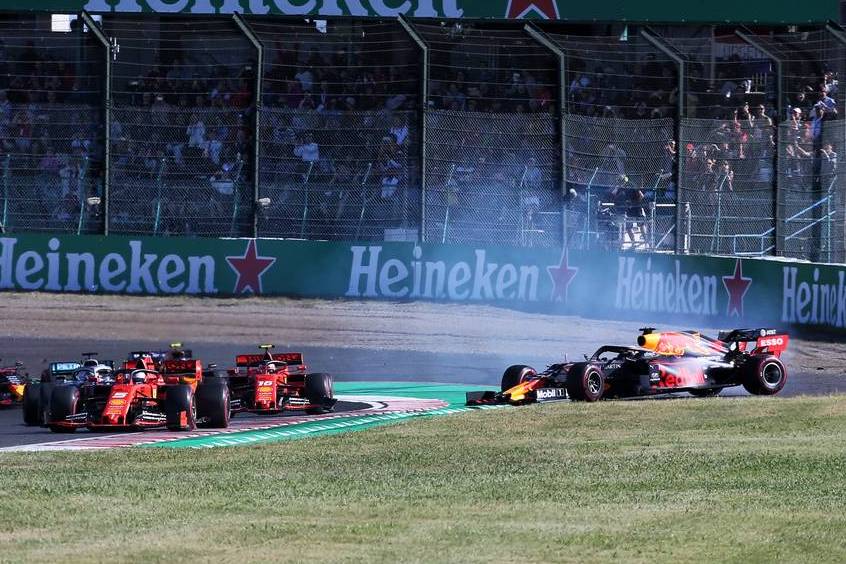 Initially, the stewards decided that the incident did not require any further investigation, but later made a U-turn - perhaps pressured by a bit of lobbying from the Red Bull pitwall - and communicated that the contact would be judged after the race, a decision that baffled Verstappen.
"The weird thing is initially they didn't investigate it right away," he said. "I mean my whole car is destroyed, the whole side, just holes in the side of the car!
"Then they start to investigate it but now it's after the race. What more should he do to get a penalty?
"I like hard racing but I don't think this was hard racing. This was just irresponsible driving into Turn 2.
"They [Ferrari] had a bad start so for sure he was trying to recover places but there's only as much as you can do and it's still a very long race. It's a shame that it happened."
Regarding the stewards' rulings, Verstappen also took issue with their call on Sebastian Vettel's anticipated move on the grid before the lights went off.
"Just watching the footage back from Seb's start, he moves, he stops, and the rule says you cannot move," said the Red Bull charger.
"That's' fine because he didn't gain an advantage they said. I really don't understand what's going on today with the rules."
Gallery: The beautiful wives and girlfriends of F1 drivers
Keep up to date with all the F1 news via Facebook and Twitter