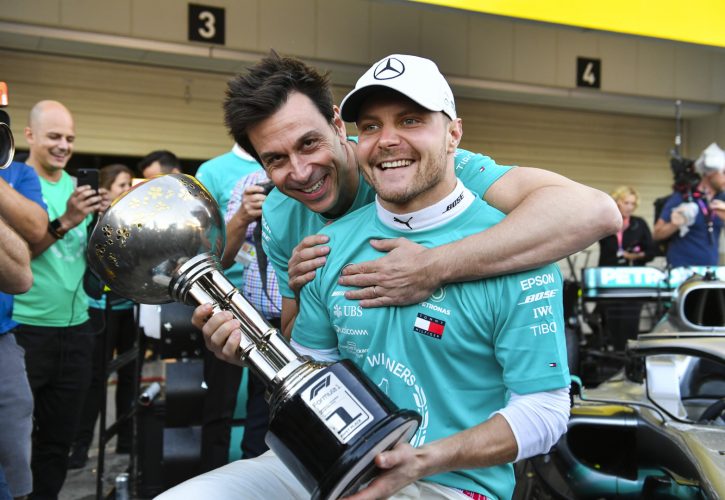 Japanese Grand Prix winner Valtteri Bottas struggled on Sunday to realise the magnitude of Mercedes' achievement of winning a sixth consecutive title, but the Finn insisted he was proud to be part of his team's historic success.
Mercedes wrapped up the Constructors' championship at Suzuka and remains undefeated in F1 since the advent of the sport's hybrid era in 2014.
The manufacturer's impressive track record in Grand Prix racing matches the six-year winning streak accomplished by Ferrari between 1999 and 2004, but Mercedes will go down in history this year as the first outfit in F1 to reach that goal while also delivering six consecutive driver titles.
As he savoured his return to the winner's circle on Sunday, Bottas struggled to get a grip on the reality of his team's outstanding feat.
"I'm very proud obviously," said the Finn. "We're making history and, it's funny with anything you do, if you are getting success, and so on, sometimes it's quite tricky to realise that success.
"Sometimes you have to step outside, a step or two to realise it really. I'm sure we will look back at this afterwards at some point, that wow, we made six and obviously hopefully more.
"But this moment, yeah, I hope we all can really appreciate it and take the time to enjoy it as well, even though we need to keep pushing."
Bottas was quick to give credit to every single team member and factory worker back at Brackley and Brixworth who contributed to Mercedes' success.
"It just feels like life goes pretty quickly onwards and it's very important to enjoy those moments and, at least personally for me, I'm really, really proud, really happy for every single team-member," he added.
"I know the amount of work that has gone into achieving it. So very, very happy for everyone and I just hope everyone realises that and enjoys it because it's well-deserved."
The battle for the drivers' title is now a two-way fight between Bottas and championship leader Lewis Hamilton.
While he'll battle his teammate for all his worth, Bottas knows that the odds of overhauling the five-time world champion in the remaining four races are low given his 64-point deficit.
"Everything is possible, but I am realistic as well," he conceded. "I will need to be very lucky to win the rest of the races. That is a fact.
"It is mostly my bad that I am this far behind in the points to Lewis. It is my fault and I will try to fix that in the future."
Gallery: The beautiful wives and girlfriends of F1 drivers
Keep up to date with all the F1 news via Facebook and Twitter