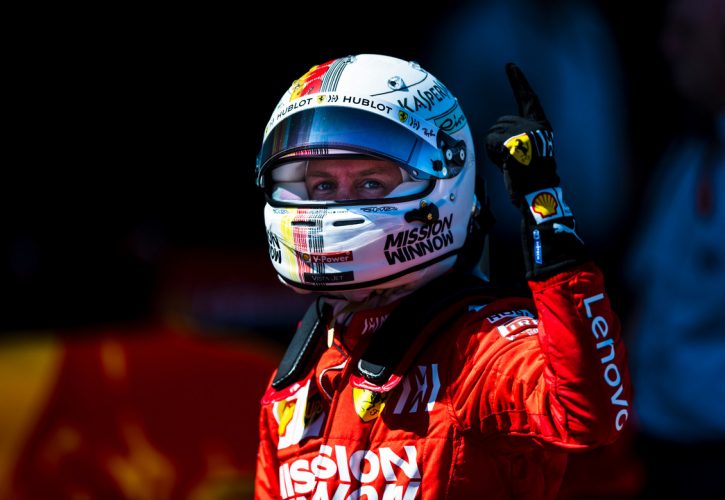 Sebastian Vettel says there was no personal resurgence on his part that allowed him to secure pole at Suzuka, the Ferrari driver insisting his performance was simply the result of a "clean session".
Charles Leclerc's recent string of four consecutive pole positions between Spa and Sochi positioned the Monegasque as the Scuderia's fastest driver on Saturday afternoons.
But in Japan, Vettel finally responded with a couple of hot laps of his own in Q3, outpacing his teammate and both Mercedes drivers to lead the grid on Sunday afternoon.
Asked whether the feat was perhaps linked to a personal breakthrough, the four-time world champion denied any sudden personal gains.
"No not really, I think it was just a clean session," Vettel said.
"I don't think there was a particular problem. Obviously, we've been improving the car, especially since Singapore, the update helped us. It certainly helped me in areas where I struggled before.
"Overall, I think qualifying sessions on my side haven't gone entirely smoothly, so maybe that one just went quite smooth.
"Both laps were clean, no issues preparing the lap and so on. I'm obviously happy with that."
Vettel's Sunday afternoon at Suzuka suffered a set-back at the outset when the German botched his start with a slight premature move off the line.
Thereafter, Vettel had the upper hand over Lewis Hamilton at the end of the 52-lap race but couldn't challenge his Mercedes teammate Valtteri Bottas for the lead.
Yet, the 32-year-old doesn't believe the Silver Arrows' W10 is a superior piece of machinery compared to Ferrari's SF90.
But the Mercedes outfit's near perfect execution this season has given its drivers a crucial edge.
"I don't think we're lacking anything," said Vettel. "We just need to work better. We are very committed, working very hard but it's not yet on the level that can be achieved.
"Mercedes have shown in the last years that you can do better and they've been able to maintain that.
"I think we are not in that position, but I've loved to be honest and I'm sure that we would be more enthusiastic by nature but that's not the case, so we need to work better.
"As I've said, I think we don't need to work harder but I think we need to work better."
Gallery: The beautiful wives and girlfriends of F1 drivers
Keep up to date with all the F1 news via Facebook and Twitter