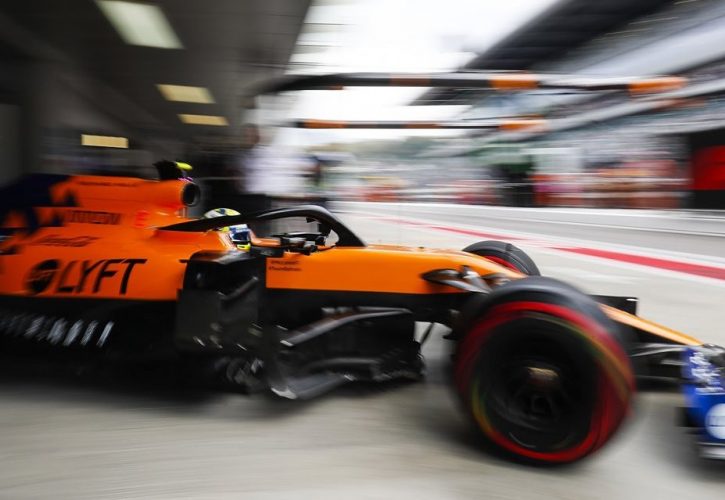 McLaren F1 boss Zak Brown dismissed a murky tweet from Rich Energy, discarding the cryptic online message as a futile publicity stint by its author.
The energy drink company, which is no longer involved as a sponsor in F1, posted a message on Twitter on Thursday, vaunting as usual its elusive brand but attaching a series of hashtags implying links to McLaren and Renault.
As trivial as the communication appeared to be, Brown felt the need to set the record straight, insisting McLaren had no interest in even talking with Rich Energy.
"I was sent that [tweet], and the guy obviously likes to draw attention to himself," Brown said, alluding to Rich Energy figurehead Williams Storey.
"I haven't spoken with them. I won't speak with them. I think that is an attempt to get some publicity."
Premium British performance with @rich_energy #RichEnergy #F1 #NewDeal #McLaren #RenaultF1 pic.twitter.com/sTXpIYz1Ab

— Rich Energy (@rich_energy) October 31, 2019
However, while addressing the status of McLaren's commercial deals, Brown said the team will bring onboard new sponsors in 2020, with the Woking-based outfit terminating its deal with Brazilian oil company Petrobras at the end of this season.
Brown also shed some light on Alfa Romeo's partnership at the US Grand Prix with McLaren sponsor Huski Chocolate, insisting the tie-up was a one-off deal and not an indication of Huski switching its F1 involvement to the Swiss outfit.
"We have a long-term contract with them," explained Brown. "Finn Rausing [Alfa F1 team co-owner] and the owner of Huski are from the same country and they do business together.
"So there is just an existing relationship there. They have a lot of people out here this weekend, so they wanted some additional exposure."
Gallery: The beautiful wives and girlfriends of F1 drivers
Keep up to date with all the F1 news via Facebook and Twitter