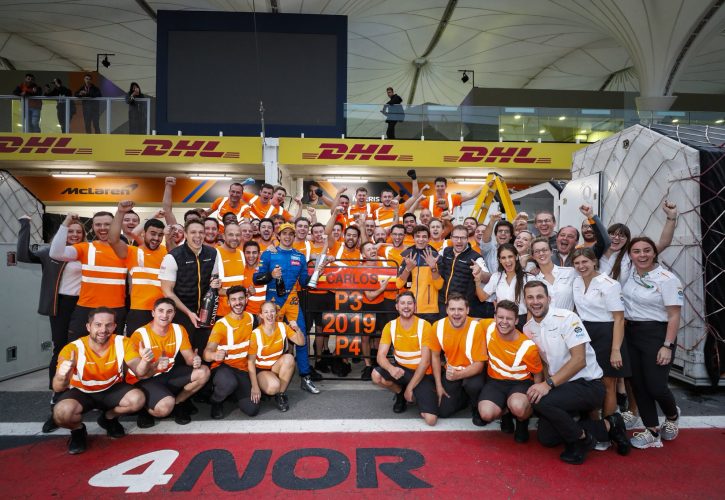 Carlos Sainz claimed his first career podium in 101 starts in Formula 1, after successfully picking up third position in the Brazilian Grand Prix on Sunday.
Sainz was originally classified in fourth place at the line, but was promoted to the top three after Lewis Hamilton received a five second penalty for making contact with Alexander Albon on the final lap.
"It's a special day for me, for the team, because we just did everything that we could do. We did it right," he told reporters after the race.
"Everything that was in our hands we did it very well. It was maximum attack from lap 1," he added. ""One of those days as a driver where everything happens and clicks."
It was a remarkable comeback after a dismal Saturday for Sainz, in which technical issues with his engine meant he couldn't take part in qualifying.
That meant he had to start the race from dead last at the back of the grid, but he was soon moving his way forward with a series of great passes during an extended first stint on soft compound tyres.
"The moves on [Sergio] Perez, the Alfas, the Haas, everything ... I made it stick every time I could," Sainz said.
Unfortunately for Sainz, the delay in deciding Hamilton's penalty meant that he missed out on the formal podium celebrations, and instead received the trophy after the stewards decision was announced.
"A bit weird not being there [on the podium] after the race, but still extremely happy," he said on his Twitter page. "Today's race was just unbelievable. The one stop strategy was difficult but paid off."
However there had been an anxious wait before McLaren could celebrate its first podium success in 119 races, since Kevin Magnussen and Jenson Button finished in second and third place in the Australian Grand Prix in 2014.
Sainz himself was among a number of drivers placed under review by the stewards for potentially using DRS behind the safety car.
But after an analysis of data prvided to the stewards by the teams involved, it was decided that no further action was required over any alleged breach.
That allowed the McLaren team to start the celebrations in the pit lane at Interlagos.
"It's a great achievement obviously," McLaren principal Andreas Seidl told Motorsport.com after the result was confirmed.
"I'm very happy for the entire team after putting in a lot of hard work here at the track and back home at the factory.
"It's great to achieve this podium, the first one for Carlos in his career, also the first one for us for a long time," he added.
"It's great motivation to make sure we keep working hard and fight for podiums in the future down to our own performance."
Gallery: The beautiful wives and girlfriends of F1 drivers
Keep up to date with all the F1 news via Facebook and Twitter