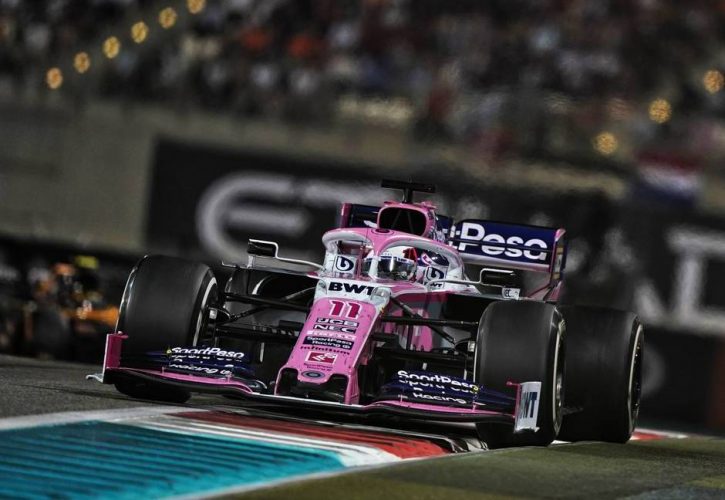 Racing Point's Sergio Perez reckoned his last lap overtake of McLaren's Lando Norris to snatch P7 in Sunday's Abu Dhabi Grand Prix was one of the best moves of his career.
A long 37-lap first stint on the medium tyre saw Perez move up to seventh, but the Mexican than fell out of the top ten after switching to the hard compound.
However, armed with fresher tyres, Perez wrestled his way back into the top ten to find himself hot on the heels of Norris.
After sizing up the McLaren in the closing stages of the race, the Racing Point charger went for it on the very last round, hounding the papaya car on the run down to Turn 11 before executing a pass on the outside of the corner.
The move caught Norris by surprise but amazed Perez himself.
"It was a good way to finish the season," Perez said. "The final lap was one of my best moves of my career, that was a pretty special one
"The six points we scored means that I have finished inside the top 10 in the Drivers' Championship and I'm pleased we could do that. I cannot wait to start next season already."
Norris was none too pleased with losing the 'best of the rest' spot to his rival, calling himself a "shit driver" for not defending his position more aggressively.
"I can't believe I allowed him to make the best move of his career!" said the McLaren driver when told of Perez's reaction.
"I was a bit nervous of locking up or doing something stupid, but I just wasn't forceful enough. I didn't change my mindset enough I don't think.
"I did the whole race being so calm and relaxed, looking after the fronts and the rears, and at this moment I needed to be aggressive and forceful and change how I was as a driver and I didn't do that.
"I was a shit driver basically in my mind because he was the one guy I had to beat today and I didn't and because of that I'm annoyed.
"The rest of the race was good but it all led up to this moment and I failed in what I needed to do."
Gallery: The beautiful wives and girlfriends of F1 drivers
Keep up to date with all the F1 news via Facebook and Twitter