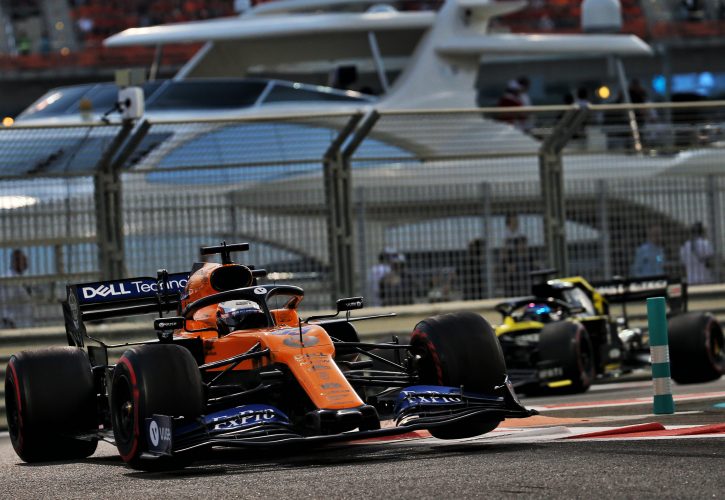 Carlos Sainz fought with the bit between his teeth to secure sixth in the drivers' championship in Abu Dhabi, and he did it with a last lap amazing move on Nico Hulkenberg that nobody saw on TV.
Thanks to an impressive 2019 campaign which has helped put McLaren back on the right track, Sainz has received praise this year from the entire F1 paddock, which has applauded his achievements, with pundits underlining in particular the Spaniard's consistency and race craft over the course of the season.
However, for all his talent and pugnacity displayed out on the racetrack, Sainz's TV exposure as F1's top midfield racer has been oddly very limited, as has been coverage in general of the sport's midfield.
Indeed, the F1 paddock often jokes about how amazing Sainz's season has been, while regretting never seeing the McLaren driver on TV!
It was more of the same at Yas Marina on Sunday. The battle for sixth in the drivers' standings had been well publicized beforehand, yet when it was skillfully sealed by Sainz the moment was conspicuously nowhere to be seen.
"I'm not going to talk too much about it," said a bewildered Sainz. "But I think everyone has been talking about this sixth-place midfield battle for the whole weekend.
"And then the fight was down to the last lap and in one of the last corners and still they don't show it on TV!
"So it's obviously strange that everyone hypes this sixth place battle, but in the end no one shows it on TV."
Earlier this year, after a thrilling four-way midfield scrap involving Sainz in Singapore was also ignored by F1's TV director crew, McLaren took it upon itself to query Formula 1 about the lack of television time.
"We are having several talks with Formula 1 about it," McLaren sponsorship manager Daniel McEwan said at the time.
"It's important for our drivers and our partners. We constantly work with Formula 1 to try to adjust and improve our visibility in the media."
Sainz rightly stated that all midfield drivers are frustrated by the lack of exposure, with Haas' Romain Grosjean suggesting the use of a split screen tool to show battles up and down the field.
"It's something I've been very critical about and something I think every midfield driver has been critical about," said Sainz.
"Because we feel like the fans are missing out on a lot of battles in the midfield, many of them you don't get at the front."
Check out Sainz's crucial move over Hulkenberg on the final lap of the Abu Dhabi GP.
Last lap: P11. Needs a P10 finish to seal 6th in the championship...

Take it away @Carlossainz55 🚀#AbuDhabiGP 🇦🇪 #F1 pic.twitter.com/YtDQbeCj3f

— Formula 1 (@F1) December 2, 2019
Gallery: The beautiful wives and girlfriends of F1 drivers
Keep up to date with all the F1 news via Facebook and Twitter