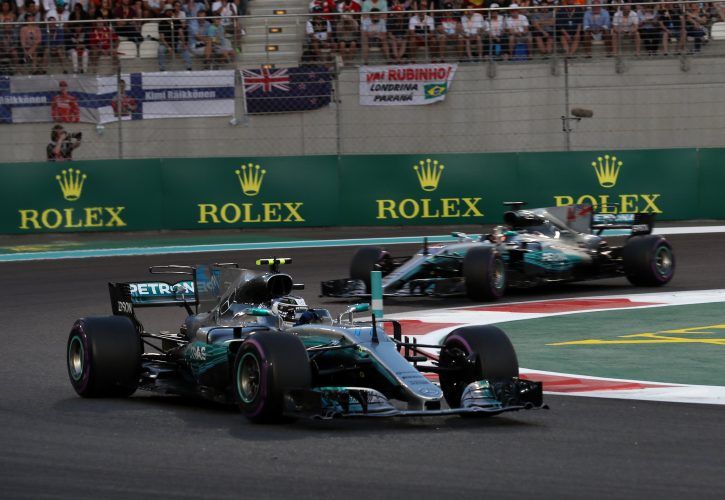 Lewis Hamilton says he was impressed by Valtteri Bottas' early form in 2019, insisting his Mercedes teammate succeeded in putting him under pressure at the outset.
After a winless campaign in 2018 and an off-season of introspection, Bottas head to F1's season-opening round in Melbourne with a fresh mind and motivation, or a '2.0' improved version of himself as he called it.
The Finn dominated proceedings in Australia and traded wins with Hamilton in the first four races of the season, an achievement that caught the reigning world champion's attention.
"Qualifying was good in Melbourne but I lost the race. I had the damage and I fell back quite far," remembered Hamilton, speaking to Autosport.
"The first couple of races are usually not perfect for me. They're still not bad, still better than average, but then there's all the outside pressures of 'Valtteri 2.0' and I'm thinking, 'We're 2-2 at one stage, two wins apiece'.
"I've got to stay solid in my mind, I can't allow the outside [factors to affect me]… but being human it's very hard not to notice those things."
After winning in Baku, Bottas' title challenge tapered off while Hamilton put four consecutive wins on the board and asserted his grasp on the championship. The Briton never looked back however, keeping his head down a he distanced himself from his teammate.
"It's crazy because we got to August and I'm thinking, 'Jeez, I've had eight wins,' and as a team, we've had like 14 wins and you kind of forget those things because you're just always looking forwards and time is always ticking," he said.
"But it was not intentional not to wow. I've been searching for that wow lap this year. And honestly, I've had good laps but they've not shown in the order, necessarily.
"I think some of my second places that split up the Ferraris, for me felt like relatively quite wow laps but because I wasn't on pole by half a second it doesn't appear that way for you. But for me internally it did."
Gallery: The beautiful wives and girlfriends of F1 drivers
Keep up to date with all the F1 news via Facebook and Twitter