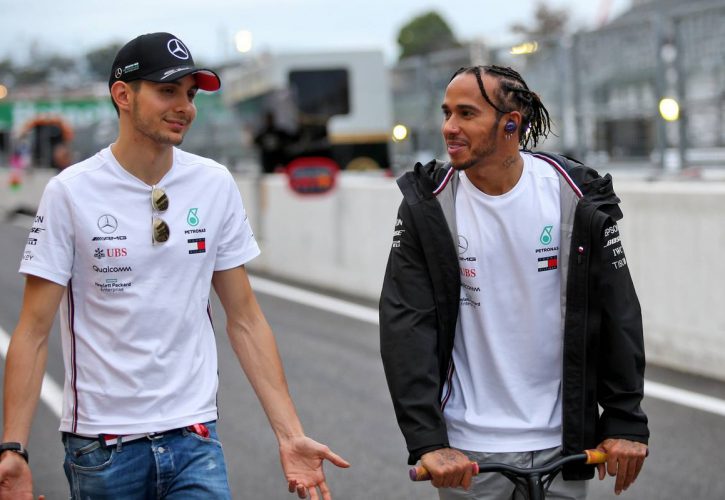 Mercedes boss Toto Wolff dismissed the idea of pitting Esteban Ocon against Lewis Hamilton at the German team, believing the move was too "risky" for the Frenchman.
Ocon spent 2019 on the sidelines as Mercedes' reserve driver, but over the summer the opportunity emerged for the 23-year-old to replace Bottas for 2020.
Wolff pondered the prospect of fielding Ocon alongside Hamilton but ultimately rejected the idea and extended in Bottas' contract with the Silver Arrows squad, while Ocon signed with Renault.
Wolff, who still manages the French driver's interests offered some insight on the reasons why he steered Ocon clear from a plum seat at Mercedes.
"The swinging argument for me was, putting Ocon against Hamilton, who has been with Mercedes for seven years and is at the peak of his game, is not good for him, especially after sitting out one year," Wolff explained.
"We might find the story exciting and probably he would have done well, but there is only one guy who ever did well against a superstar [Alonso] and that was Lewis Hamilton himself. All the other drivers needed time.
"So, I don't want to risk his career and I don't want to risk him trying to do something to win against Lewis. That was the tipping point."
Wolff was surely attentive at the time to the effects of the intra-team rivalry between Sebastian Vettel and Charles Leclerc at Ferrari and shied away from risking a potential disruption at Mercedes.
"Whilst managing drivers you have to embrace the fact that they will pursue their dreams and their main target is going to win the Drivers' Championship," Wolff said.
"That can create some tension because not always these objectives are aligned with the team objectives.
"What I'm really proud of is that over all these years, we have always managed to get the drivers behind the team's objective and behind Mercedes' target to be one of the most successful sports teams in the world.
"Valtteri and Lewis work really well together. They have been pushing each other," he added.
"This is a dynamic that is really positive for the team. In that respect, I believe that we have a sensational driver line-up going forward."
Gallery: The beautiful wives and girlfriends of F1 drivers
Keep up to date with all the F1 news via Facebook and Twitter