Fernando Alonso's hopes of contending for a spot among the Dakar's front-runners were dealt a major blow on Monday when the Spaniard was halted for over 2 hours after hitting a rock.
The rally-raid's second stage in Saudi Arabia saw competitors run from Al Wajh to Neom, a 367 km route which was won by Alonso's Toyota Gazoo Racing teammate Giniel de Villiers thanks to a faultless drive.
Participants were handed the day's roadbook just minutes before the start of the stage which complicated the field's navigation.
Onboard his Toyota Hilux with co-driver Marc Coma by his side, Alonso held his own among the fastest cars until the two-time F1 champion suddenly ground to a halt after 160 kilometers.
An impact with a rock had inflicted damage to the Toyota's wheel and suspension, which Coma and Alonso succeeded in repairing before the pair's assistance truck reached them.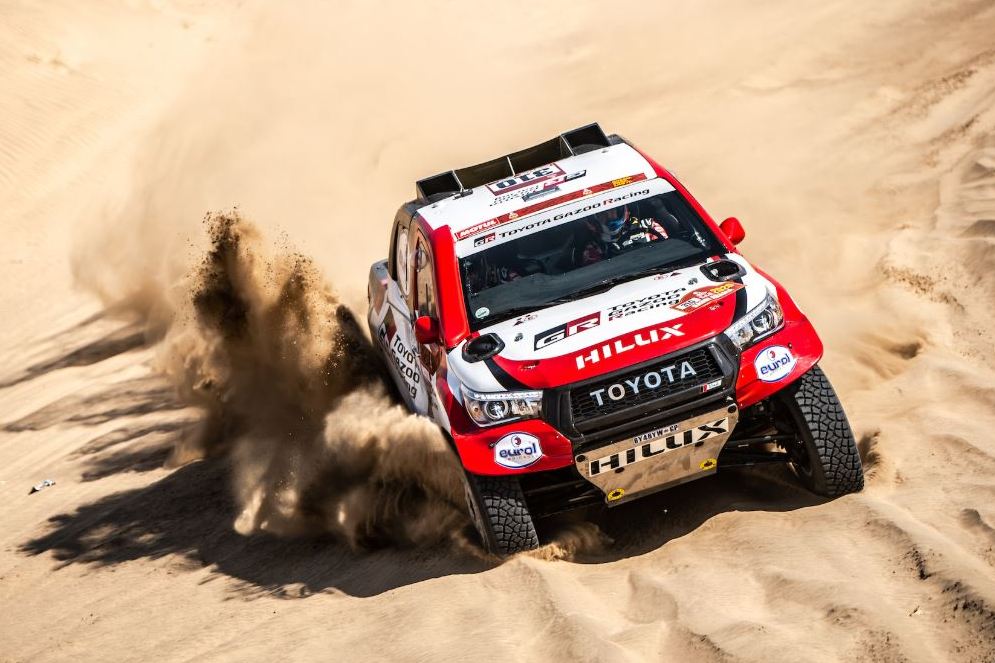 (Updated)
"We collided with something in the dust," said Alonso after the stage, quoted by Motorsport.com. "We don't even know what it was, because we couldn't see anything.
"We had done 48km very fast and we had just caught Erik Van Loon, who was in front of us. Then we had 120km in the dust and with zero visibility until we collided with something.
After 2 hours and 30 minutes, Alonso was on the move again, but the mishap was a major setback for the 38-year-old Dakar rookie.
"Initially we planned to wait for assistance, because a truck always comes four or five hours behind. But calmly we started to disassemble what we could disassemble.
"We had contact with the team and we were informing how the progress was going. And at one point they told us that if we could get this and that out, we could almost repair it. We got a little more serious and that was the case
"We drove without front brakes. We had to cut the front circuit, so we had to drive carefully, but it is one more experience. I wanted to live the Dakar with all the extras and this is part of the race. I'm glad to be here and to continue."
Overall, X-raid Mini driver Orlando Terranova has taken control of the Dakar's car category in the general standings, the Argentine driver followed by Carlos Sainz Sr., also onboard a Mini, and Toyota's Nasser Al-Attiyah.
Tuesday's third stage will feature a 427km loop around the mega city of Neom that will take competitors through canyons and mountains, to the border with Jordan and back.
Gallery: The beautiful wives and girlfriends of F1 drivers
Keep up to date with all the F1 news via Facebook and Twitter