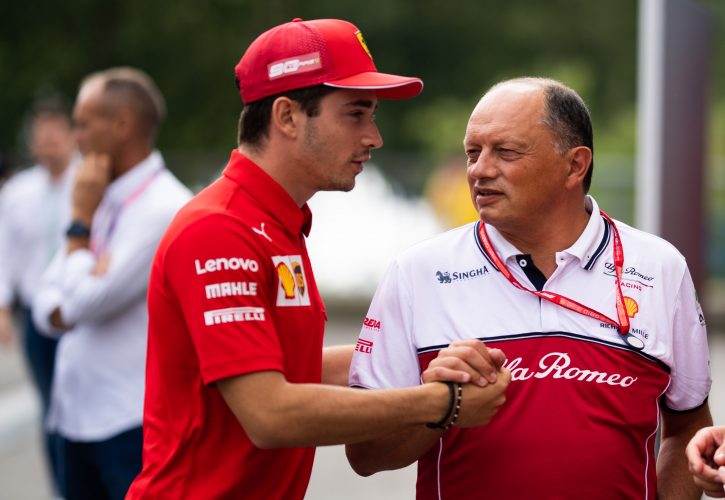 Alfa Romeo Racing boss Frédéric Vasseur, who mentored Charles Leclerc during his debut season in F1, says the Monegasque is inhabited by two qualities that only great champions possess.
Leclerc graduated to Ferrari after an impressive maiden campaign in Grand Prix racing with Sauber, challenging for race wins from the outset and securing his first two victories in the sport in addition to seven pole positions.
However, the 22-year-old learned his trade on the back of a few costly mistakes, like in Baku and at Hockenheim.
But Leclerc's ability to own up to his errors - something Leclerc derives from his strong level self-confidence insists Vasseur - is a trait that puts the Scuderia charger in the league of champions according to the Alfa boss.
"I think it's one of the characteristics of Charles, but mainly of champions, [to be] very, very self-confident in the car, and they can sometimes be able to do things coming from the moon because they have huge self-confidence," explained Vasseur, quoted by Motorsport.com.
"And this self-confidence allows them, when they are out of the car, to have self-criticism, to blame themselves, because they know perfectly that they have the potential, they are a champion, and they can say 'okay, I had a poor drive today.'
"It's only a champion who is able to say something like this. On paper they are better than the others, but he's able to blame himself – 'OK, forget the session, I had a poor drive.
"And it's good for the team because when it's not the case, they could bring you in the wrong direction."
Given Vasseur's contribution to Leclerc's development in 2018, the Alfa boss admits he still keeps a watchful eye on his former protégé.
"I'm pleased for him because he did a great season that could have been perhaps a bit better without Bahrain and other races, but he did a great job," he said.
"He's got incredible pace in qualifying, this is quite impressive. I'm more than happy for him because for me he deserves it 200%. He's the only one that I keep an eye on."
Gallery: The beautiful wives and girlfriends of F1 drivers
Keep up to date with all the F1 news via Facebook and Twitter