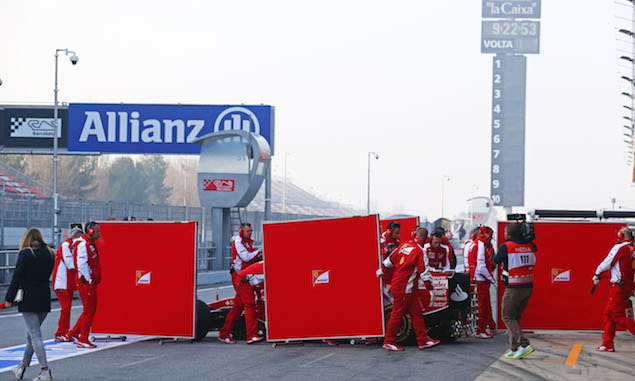 Kimi Raikkonen says Ferrari was unable to complete the mileage it wanted on day two of testing at the Circuit de Catalunya due to reliability issues.
Ferrari has set impressive lap times throughout pre-season testing so far, with the SF15-T in the top two at the end of each of the first six days. Despite completing 90 laps on Friday in Barcelona, Raikkonen says it was one of the least productive days for the team after being hampered by reliability issues.
"Today was not an ideal day, we had some small issues [and] we didn't run as much as we wanted," Raikkonen said. "It was a bit of a more tricky day but we tried some more things and we learned. It was not a bad two days overall."
While not completely satisfied with Friday's running, Raikkonen says the atmosphere within the team is noticeably better than in 2014.
"We're working very well together, there's a good atmosphere, they've done a good job over the winter and we're going in the right direction in all areas. Obviously racing is a different story than testing, but so far so good.
"We're a team and the management of the team has done a good job in putting the right people in the right places. It's early days still, but so far it's not so bad and everybody seems to be enjoying working here a bit more now, and that's a good thing."
Full times and the second day as it happened
Click here for the gallery from day two of the second test
Keep up to date with all the F1 news via Facebook and Twitter