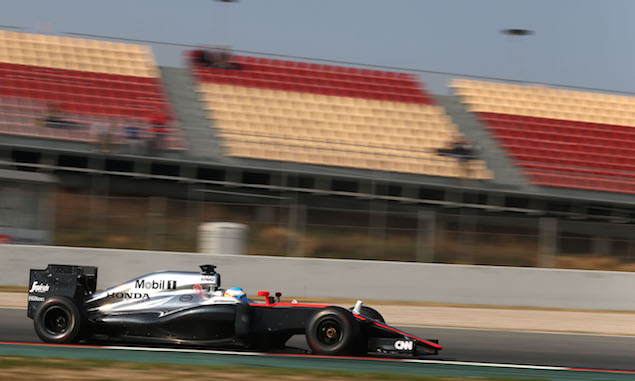 Fernando Alonso says it is time for McLaren to raise its game following its encouraging second day of testing at the Circuit de Catalunya.
After Jenson Button was limited to just 21 laps on the opening day of the second test, Alonso was set for another difficult day with Honda forced in to running a power unit which featured a faulty MGU-K seal while a replacement is manufactured. However, with the new part arriving early and McLaren adapting its run plan accordingly, Alonso was able to complete 59 laps and says the time has come for the team to kick on after showing a big step forward since the first test at Jerez.
"I expected it somehow, to have this progress," Alonso said. "There are only six days of testing between now and Australia so it's time for us to raise our game and start putting in some laps and learning about the car. So that was the aim.
"Yesterday when Jenson had the problem and we had another difficult day then obviously maybe I was a little bit more pessimistic but today finally showed to all of us - to the team, to the factory in England and in Japan - that we are in the right direction. So the potential of the car is there. With limitations or no limitations the car feels good, it feels quick."
And Alonso described Friday as "a beautiful day" as he was setting representative lap times in the afternoon session.
"We had a better day today, we could complete some runs, we started at 9:00 and finished at 5:45 which was good news. We could test some of the potential of the car finally and complete some laps, checking many systems which we could not before. So every lap we do we learn things, every lap we do we discover new things.
"We are in the very early phase of the development of the car but definitely very interesting and very challenge for all of us because it's a completely new project. Everyone in the team is so excited about the McLaren-Honda partnership and it has been a beautiful day for me driving the car and exploring some of the potential. Obviously we are running with some limitations still on the engine and full power etc but definitely the car felt better than Jerez."
Full times and the second day as it happened
Click here for the gallery from day two of the second test
Keep up to date with all the F1 news via Facebook and Twitter