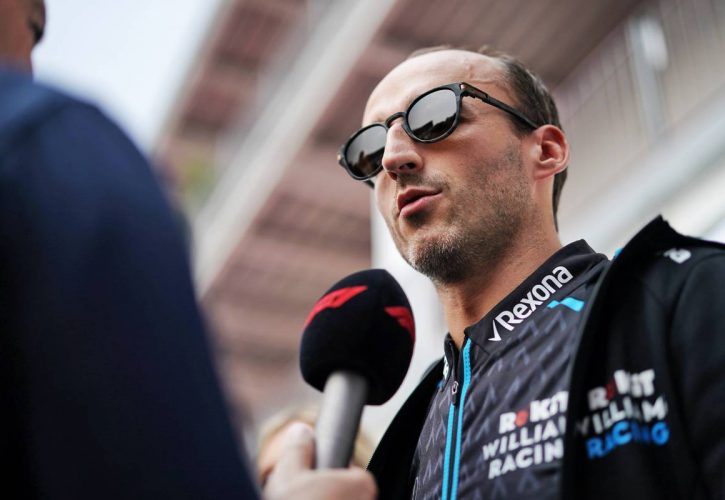 Robert Kubica says he won't offer any 'cheap excuses' for why his 2019 Formula 1 comeback proved to be such a crushing disappointment.
The 35-year-old Pole was out of the sport for eight seasons after suffering life-changing injuries from an off-season rallying accident at the start of 2011.
He was eventually able to make his F1 return with Williams in 2019, but the overall poor performance of the car meant that he was firmly stuck at the back of the grid for the entire campaign.
While he did pick up one championship point with an opportunistic top ten finish in Germany, his performances generally compared poorly with his rookie team mate George Russell.
But Kubica didn't want to blame the injuries to his right arm for how the campaign turned out, even though they had meant that he was having to drive "70 per cent left-handed" all season.
"Sometimes we want to make people believe that Formula 1 is simple, but it is not," he told Motorsport.com. "There are a lot of factors which have a big influence on the final result.
"One of the factors which is not a big influence is actually my limitations in high-speed [sections]," he stated, adding that the car's handling issues had been a far bigger factor overall.
"When you lack the grip, it is normal that you lose more in more challenging areas," he pointed out. "Also you lose more when you have two, three corners in a row than only one corner or a straight line.
"This is something where I'm sure my limitations are not influencing my driving, on this type of area."
He also dismissed suggestions that his problems had been linked to the tricky 2019 tyre compounds.
"I see that as a cheap excuse for an unsuccessful season," Kubica insisted. "I think I am clever enough and good enough to understand what I should do with the tyres.
"Of course, ultimately it is the driver who is driving the car. But we have exactly the same targets and exactly the same things operationally regarding the tyres," he said. "[However] it's not a driver which is choosing which way to go and how the tyres should operate, it's still teamwork.
"I have my opinions on many areas where I definitely could have done better," he continued. "There were occasions where I could perform and I did perform well, but they were hidden with some external factors.
"With the circumstances we were in, it was extremely important for me to start the season with a good consistency so I could build up my comeback on this," he continued. "Unfortunately, this didn't happen."
Kubica also suggested that a lack of support and feddback from the team had been an issue, contributing to his decision in September to announce he was quitting Williams at the end of the season.
"There were occasions where I didn't hear any answer, or I had no idea why we were so underperforming from day to day," he complained. "This is something which is worse, because in order to improve you need to understand the reasons.
"There's no point of having a medicine for something which isn't causing your illness," he pointed out.
Having made his departure from Williams, Kubica will now serve as reserve driver at Alfa Romeo in support of Kimi Raikkonen and Antonio Giovinazzi in 2020. He's also taken part in DTM rookie testing with BMW, but is yet to be confirmed with a seat in the championship.
Gallery: The beautiful wives and girlfriends of F1 drivers
Keep up to date with all the F1 news via Facebook and Twitter