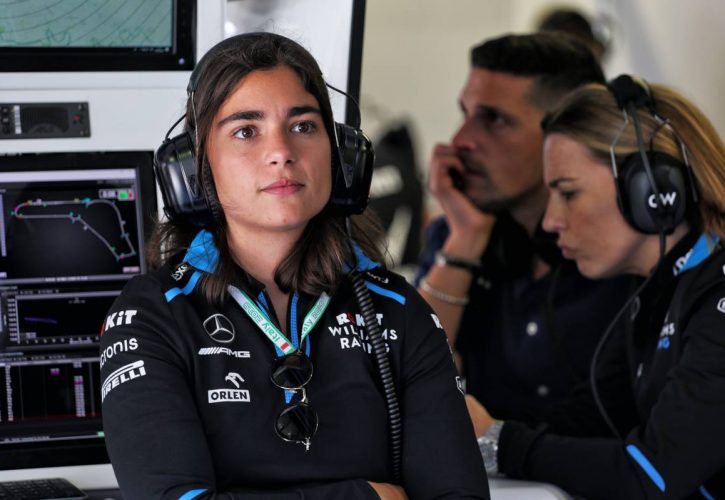 Jamie Chadwick believes that racing in F1 has now become a "realistic" goal although the 2019 W Series champion knows that such an ambition remains a very tall order.
Chadwick won last year's inaugural W Series championship, a feat that came with a hefty $500,000 check to help fund her move up to the next step of the ladder.
Unfortunately, a lack of sponsorship hasn't enabled the 21-year-old to step up to F3, but Chadwick will remain active this year, defending her W Series title while also retaining her role as a development driver with Williams in F1.
For now, her involvement with the Grove-based squad is limited to simulator time and a presence with the team at selected races like she enjoyed last year.
It may just be a toe in the door for the Bath-born racer, but she'll be pressing hard for the chance to one day fulfill her dream of becoming the first woman since Lella Lombardi in 1976 to race in F1.
And thanks to her recent achievements, Chadwick feels that her ultimate ambition has become a rational prospect.
"It's a little more realistic than it was a year or two ago," she said in an interview with The Guardian.
"And then when you think, I want to be a racing driver, you think, I want to race in Formula 1.
"But you say that, and you never actually think it's going to happen. It's still a mad thought, to think that one day it could be possible.
"Even now, immersing myself with Williams, I still have pinch-me moment. But, yeah, it's the ultimate goal. I'm under no illusions as to how tough it'll be to get there."
F1's marketing bosses believe that a pretty face could do wonders for the sport in terms of exposure, but Chadwick dismisses such a superficial motive, rightly insisting that she wants to be selected first and foremost for her skills and talents.
"I want to do it on merit. I don't want to do it because I'm a token female racing driver," she makes clear.
"I really feel that given the right opportunity and the right support, it is possible, not just for me, but for women, to race competitively in Formula 1. Ultimately, I want to be the one to prove that."
As for the preconception that a woman would physically struggle to wrestle a Grand Prix car, it's just more fuel for Chadwick's already steely motivation.
"There are people who think, OK, you're good for a girl, but you might not necessarily make it to the top," she said.
"I see it as motivation. I genuinely believe that it is possible and, if not me, there is a female out there who is definitely capable."
Gallery: The beautiful wives and girlfriends of F1 drivers
Keep up to date with all the F1 news via Facebook and Twitter