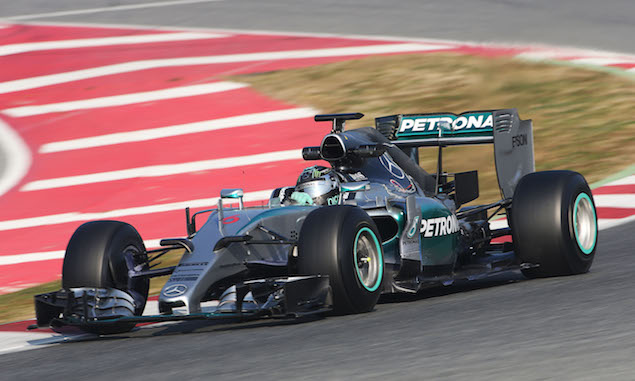 Nico Rosberg has admitted that he is surprised by the pace Mercedes' rivals have displayed in pre-season testing so far.
Despite Daniel Ricciardo and Red Bull setting the fastest time overall on day two of Barcelona testing, the 2014 F1 world championship runner-up has pinpointed Ferrari as the team that has improved the most. Rosberg's statement also echoes what team-mate Lewis Hamilton mentioned about their opponents having made good progress over the winter.
"It's clear that the others have really stepped up their game, so the lap times are surprising to us," Rosberg said. "And in relation, it seems that Ferrari has made the biggest step at the moment … Our eyes are wide open."
The Mercedes driver also explains why he opted to sit out the afternoon session after conducting aero and setup evaluation work over 66 laps in the morning. Slightly suffering from both his neck and back, Rosberg elected to curtail his efforts early in order to ensure he is 100% fit for his Sunday run.
"I am just being careful. I know the cause of it: it was my position in the car, which I got a bit wrong … I did not realise … but it was all fine.
"I changed it over the winter. It's incredible how of a fine line some time it is. It's a couple of millimetres, it was centimetres in this case, and it changes everything. It is just the position of the spine, because we have such G-forces that it needs to all be in line and that was not quite right."
"I like it different, but I can't drive the one I like. My neck does not like that one. I have to get used to [the old position] again. It does not take long but it's different."
Rosberg will be back behind the wheel of the W06 Hybrid for the final day of this week's test on Sunday, with team-mate Hamilton - who drove on Friday afternoon - continuing driving duties tomorrow at the Circuit de Catalunya.
Full times and the second day as it happened
Click here for the gallery from day two of the second test
Keep up to date with all the F1 news via Facebook and Twitter