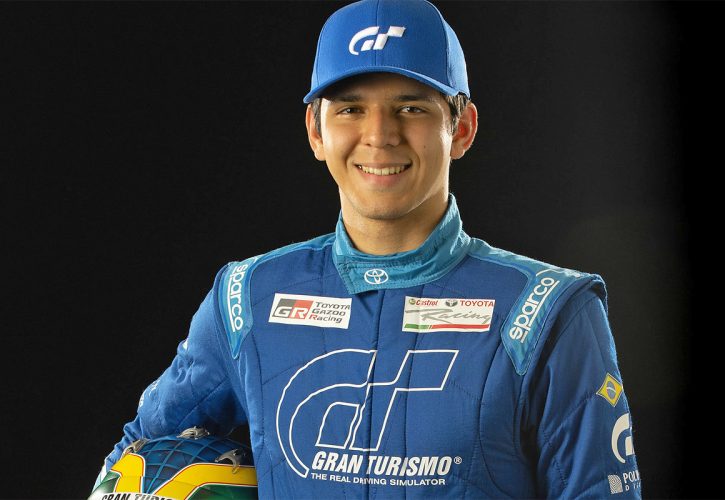 Charouz Racing System has announced that former F1 Esports competitor Igor Fraga will be part of its driver line-up for this year's FIA Formula 3 championship.
It means that the 21-year-old Japanese-born Brazilian racer will be racing alongside new team mates David Schumacher and Niko Kari in 2020.
It will be the first time that an F1 Esports competitor will feature at an official F1 weekend. Fraga was a finalist in the inaugural season of the virtual competition in 2017, raced for Williams eSports in 2018, and won McLaren's Shadow Project title at the start of 2019.
However Fraga also has plenty of real-world racing experience under his belt. His first major series was the 2017-18 NACAM Formula 4 series where he finished fourth, and he clinched third place in last year's Formula Regional European Championship.
He is the current leader of the Toyota Racing Series with two wins and seven podiums to his credit so far. If he were to win the title it would give him 35 FIA superlicense points - tantalisingly close to the 40 point threshold needed to be eligible for F1.
"I'm really looking forward to joining the Formula 3 field with Charouz," Fraga told the official series website this week. "It is a competitive series and a very professional environment.
"Running at the same events as F1 is kind a crazy to think about!" he added. "I just can't wait to start my season.
"This year is about the process of learning. Of course, the goal is always to win a race, but I am not underestimating the challenge ahead either. I will give my best and push to achieve my goals."
Fraga's will get his first taste of life at the wheel of the Dallara F3 chassis during pre-season testing in Bahrain from March 1-3. The new season itself starts at the same venue on March 20-22.
Fraga is unlikely to be daunted by the presence of one of the most famous names in motorsport as a team mate. David Schumacher is the won of former F1 driver Ralf, and nephew of the great Michael Schumacher.
"I feel really happy and grateful to make the step up to FIA Formula 3 full-time with Charouz," said the 18-year-old. "I drove two events at the end of last year and that was good preparation for the season ahead.
"I got to learn more about the car, and that's valuable as we don't have many practice opportunities during race weekends. I think we can make a step forward this season and I will try and finish as high as possible."
The most experienced member of the line-up is Kari. The 20-year-old Finn won the SMP F4 Championship in 2015 and was vice-champion in the 2016 Masters of Formula 3. He was a race winner in GP3 and European F3, and took two podiums F3 last season at Barcelona and Sochi.
"I'm really looking forward to this year," said Kari. "It will be a nice challenge to go and fight for podiums and why not for the championship as well?
It's going to be an interesting journey with Charouz and I'm sure we can work well together," he added. "I'm hoping this can be the start of a long-term relationship and that we can make a good season out of it."
"We're delighted to announce such an exciting driver line-up for the new season," said team owner Antonin Charouz.
"Igor and David are newcomers to this championship but showed excellent speed and maturity in a competitive series last year.
"Niko is very experienced in Formula 3 and will no doubt be among the front-runners. We're excited to make a step in F3 after laying some solid foundations last season."
"We are highly motivated to achieve further success in 2020," added Team principal Bob Vavrik. "We worked with Igor and David during last year's Valencia test and they were both exceptionally professional, while David showed great promise at Macau.
"We've tracked Niko's progress in Formula 3 and know he is an experienced addition to our family. I look forward to seeing what all three can achieve this season."
Charouz Racing System reverts to its own name in 2020 after competing in last year's championship under the banner of the Sauber Junior Team.
Gallery: The beautiful wives and girlfriends of F1 drivers
Keep up to date with all the F1 news via Facebook and Twitter