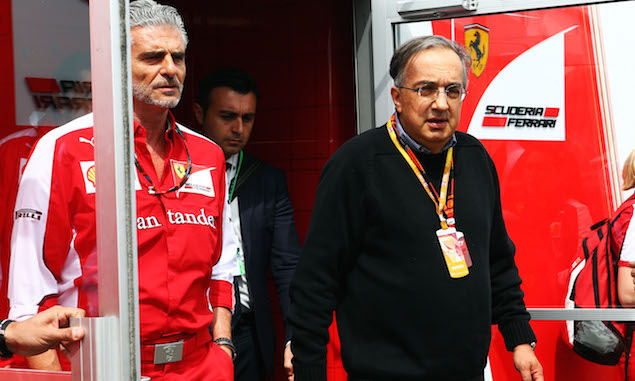 Ferrari president Sergio Marchionne has praised the team for its performance in 2015 but says "the real battle" starts next season.
Team principal Maurizio Arrivabene set the target of two victories when this year's car was launched in January, but Sebastian Vettel went on to win three times as he finished third in the drivers' championship. Marchionne told Ferrari team members during its Christmas lunch that he is pleased with the performance this season and is confident of more success in 2016.
"You know that the real battle starts in 2016, but we can count on two drivers who have already been world champions and engineers who can take us back to the top," Marchionne said.
"This year, we'd have been happy with two wins, but we managed three, as well as a whole host of podium finishes. The most important thing is that, above all, we made the most of our in-house resources, without taking on too many outsiders."
And Arrivabene challenged Ferrari to exceed expectations once again in 2016 as it looks to close the gap to Mercedes.
"Our aim for next year is to work with even more determination, to deserve this badge that we must wear with honour," Arrivabene said. "A special thanks goes to our President, who has always supported us, putting himself in the front line. 'We race' is in our DNA."
Three F1 seasons in one - Pirelli boss offers radical scheduling plan to save F1
Exclusive pictures of the Mercedes power unit
Use the red tabs on either side of the screen to scroll through more Formula One news and features
Click here for a gallery of the McLaren MP4-X
Keep up to date with all the F1 news via Facebook and Twitter