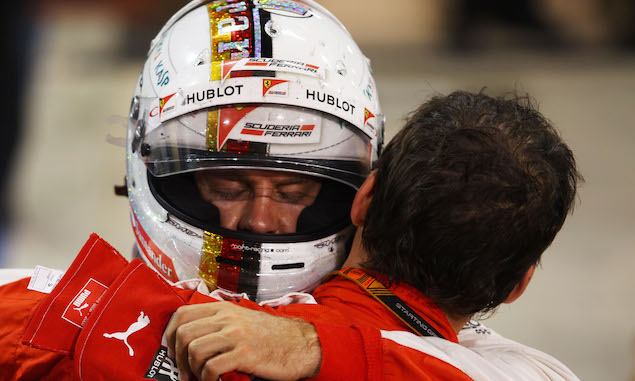 Sebastian Vettel has thanked Ferrari after what he described as a "fantastic" first year with the team.
Following the end of a run of four consecutive drivers' championships with Red Bull, Vettel moved to Ferrari ahead of the 2015 season having failed to win a race the year before. Ferrari had similarly struggled in 2014 with the team registering just two podium finishes courtesy of Fernando Alonso as Mercedes dominated.
This season saw Vettel take three victories as Ferrari emerged as Mercedes' nearest challenger and speaking at the team's Christmas lunch he thanked the staff for their help in his first year.
"This, my first year with Ferrari, has been fantastic, with plenty of successes," Vettel said. "Hearing the German and Italian national anthems on the podium was an indescribable feeling. Thanks to all you men and women at Ferrari who, every year, put together this red miracle. Thanks for the affection you have shown me."
Team-mate Kimi Raikkonen was part of the Ferrari team which struggled in 2014 and says he noticed the difference in team atmosphere this season.
"This year did not get off to a very good start for me, but it ended on an upbeat," Raikkonen said. "We must continue working together and then I'm sure the results will come. Because now, we are really a team and actually, I'm sure we will be a great team."
Three F1 seasons in one - Pirelli boss offers radical scheduling plan to save F1
Exclusive pictures of the Mercedes power unit
Use the red tabs on either side of the screen to scroll through more Formula One news and features
Click here for a gallery of the McLaren MP4-X
Keep up to date with all the F1 news via Facebook and Twitter