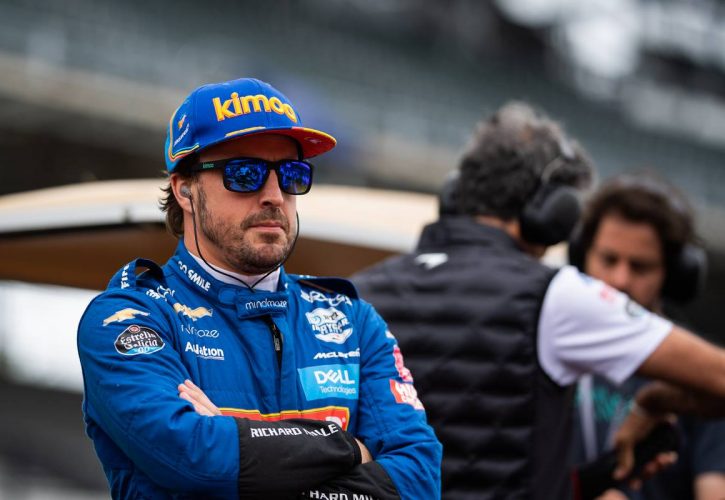 Arrow McLaren SP consultant Robert Wickens says Fernando Alonso's ruthless work ethic will bring a "whole new dimension" to the team at this year's Indy 500.
Alonso was signed up by the new Arrow McLaren SP entity as a third entry at the Brickyard where the Spaniard will race alongside the IndyCar's squad's full-time drivers Patricio O'Ward and Oliver Askew.
Wickens is still in rehabilitation mode following his horrendous IndyCar crash at Pocono in 2018 which left the Canadian with a damaged spinal cord.
However, the 30-year-old former Schmidt-Peterson Motorsports driver is on the road to recovery and slowly regaining his mobility while also working as an advisor to Arrow McLaren SP.
"It's going to be really exciting. In fact, as a fan of the sport, I think it's going to be incredible," Wickens enthused, referring to Alonso's active involvement with the team at Indianapolis.
"For me, it's going to be my first time working side-by-side with a world champion so that's going to be fun.
"I've always heard how ruthless his work ethic has been throughout his entire career, and I see little bits of me when I hear about how he likes to work.
"So I'm assuming we'll have fairly good chemistry and we'll click."
Alonso aims to qualify for his second Indy 500 next May, having missed the cut last year with McLaren's failed Carlin-run effort.
Regardless of the two-time F1 world champion's personal ambitions, Wickens believes that Alonso's presence will spur on O'Ward and Askew, the team's young drivers.
"Fernando's always been known to push teams very heavily, push as hard as he can, and for our two 'kids' it's going to be good for them to see what it takes from a work ethic standpoint," he said.
"I think some young drivers in their early years as professionals don't realize that the driving side is often the easy part once you reach this level.
"It's what they do behind the scenes that will set them apart from the competition.
"So it's a going to be really cool for them to watch him at work and share feedback and information.
"Alonso is so talented and well-rounded and diverse, he's going to bring a whole new dimension to our team."
Gallery: The beautiful wives and girlfriends of F1 drivers
Keep up to date with all the F1 news via Facebook and Twitter