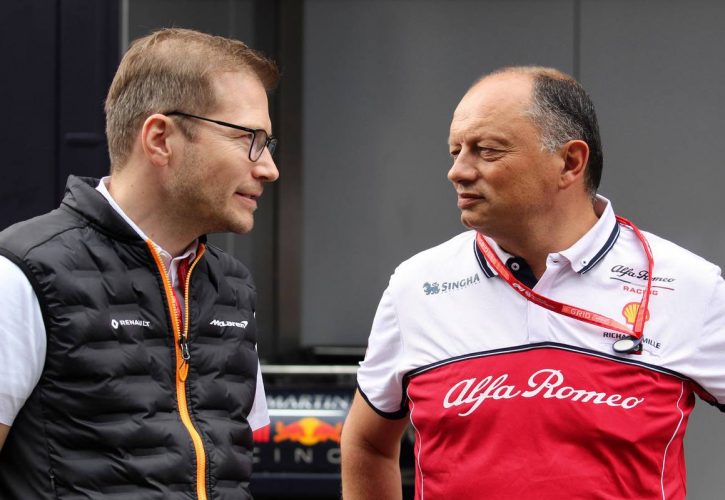 Alfa Romeo Racing boss Frédéric Vasseur says it would have been "unfair" for McLaren to have been the only team to sit out the Australian Grand Prix.
The Woking-based outfit pulled out of the season opening round of the F1 world championship after a member of its staff tested positive for the coronavirus on the Thursday before the scheduled race.
McLaren's bold decision triggered a big debate among the teams, F1 and the organizer on whether to push ahead with the event or not.
Alfa was in the camp of those that were in favour of a cancellation. While Vasseur insisted that it had been anything but an easy decision, the Frenchman said the call was partially swayed by McLaren's actions.
"As a racer it's difficult to take this kind of decision," Vasseur told Motorsport.com.
"But firstly we have to think about our employees, the safety of the fans, the image of the sport, the image of the sponsors, and also about McLaren, because it would have been a bit unfair to have let them withdraw alone."
For Vasseur, F1 ultimately did the right thing in Melbourne.
"I think it was the right decision," he added.
"It's not easy for the team, because everybody pushed like hell to be on time in Melbourne, on the race team but also back in the factory.
"But we have to take the decision, perhaps it's a shame that it's a bit too late. But it exploded so quickly."
Australia's cancellation on Friday was followed the next day by the abandonment of the Bahrain and Vietnam Grands Prix, a fate that will likely also befall Holland, Spain and perhaps Monaco.
"The situation is not easy, it's a huge disaster all over the world," Vasseur admitted.
"F1 is not the centre of the world, so let's do it step-by-step. The first step is not an easy one."
Gallery: The beautiful wives and girlfriends of F1 drivers
Keep up to date with all the F1 news via Facebook and Twitter