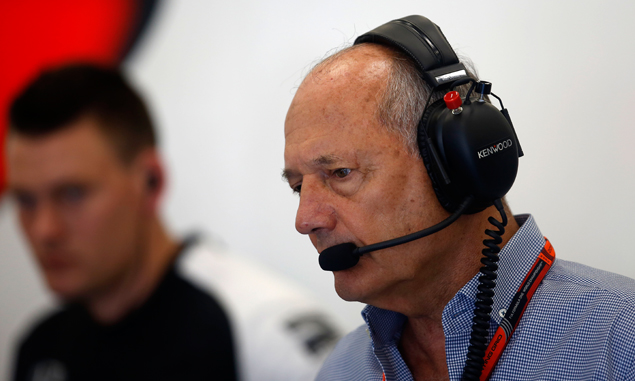 McLaren Group chairman Ron Dennis says he still feels fit for the job of steering the revered British outfit back to Formula One success.
Having served as McLaren's team principal until 2009 and chief executive officer until 2012, Dennis was reappointed as CEO in early 2014 following a disappointing 2013 campaign that yielded no podium.
The ensuing senior management overhaul saw team principal Martin Whitmarsh leave the squad, while Eric Boullier joined as racing director from Lotus. Two years on and McLaren is coming off one of its worst seasons in the sport, with the multiple title-winning outfit enduring a torrid reunion with engine partner Honda.
"Do I feel fit for the job? I feel I am extremely healthy, as far as I now," Dennis said. "I look after myself, I don't get falling-over tired and I am highly motivated – and I will die with ambition."
"I will always be ambitious. F1 is challenging but, as I've said, it isn't my challenge. It is the challenge that I choose the right people.
"That is the challenge in any business: choose good leaders. You don't always get it right but that is the challenge."
McLaren has not won a race since a Jenson Button victory at the 2012 Brazilian Grand Prix. Dennis thinks his team is still hurting from the errors that were made after a campaign that had seen it claim six victories.
"When we left what was a dominant season in 2012, we came [to Abu Dhabi] and we were by far the quickest car. There was no regulation change, so it was not the right decision to make a new car [for the following season].
"It was not the right decision not to immediately revert to that [2012-spec] car after the first grand prix. And that was a real point at which the company made a mistake.
"We should have reverted to that car and then we should have developed that car. Then we would have not lost, instead of constantly pursuing something that, with the benefit of hindsight, was fundamentally flawed."
Graeme Lowdon exclusive: F1 is all about the passion
Super six: Max Verstappen overtakes
Use the red tabs on either side of the screen to scroll through more Formula One news and features
Click here for a gallery of the McLaren MP4-X
Keep up to date with all the F1 news via Facebook and Twitter