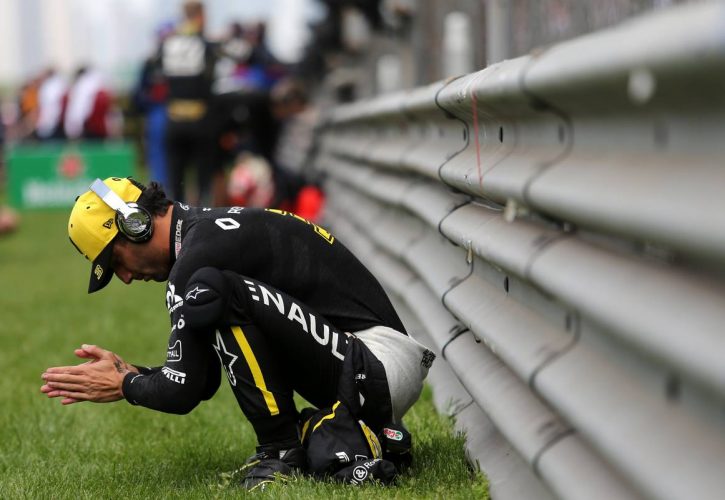 Renault driver Daniel Ricciardo says he is still hopeful of being able to go racing at the newly renovated Zandvoort circuit at some point this season.
The revived Dutch Grand Prix was back on this year's Formula 1 calendar for the first time in 35 years, but has since been indefinitely postponed as a result of the coronavirus pandemic.
Some affected events including Ricciardo's home race in Australia as well as the Monaco Grand Prix have been cancelled outright for 2020. But Ricciardo is hoping that won't prove to be the case for Zandvoort.
"I am really sorry that Zandvoort has been postponed," Ricciardo said in a video message aired in the Ziggo Sport Formula 1 café program this week.
"Hopefully they will find a new place on the calendar for that, I was really looking forward to that race," he said, as reported by the Dutch edition of Motorsport.com.
"I was looking forward to seeing the curves and all other adjustments they have made for us. It looks really cool. We will see what happens. "
Among the changes made to the venerable circuit to make is suitable for 21st century F1 cars are steep banking at the Hugenholtzbocht and Arie Luyendijkbocht corners.
F1's official tyre supplier Pirelli has been working on a special compound better suited to the banked sections. It's to ensure there's no repeat of the 2005 United States Grand Prix when the combination of steep banking and a rough surface at the Indianapolis Motor Speedway proved too much for cars on Michelin tyres.
The championship's return to Zandvoort had originally been due to take place on May 3, but a formal postponement announcement was made two weeks ago just as F1 went into lockdown due to the spreading pandemic.
Teams are currently mothballed after taking their summer shutdown early in order to free up weekends in August for possible rescheduling of the postponed events.
"I'm doing pretty well," Ricciardo said when asked how he was faring under the lockdown that was keeping everyone inside. "I'm just waiting for us to race again.
"I'm trying to keep myself fit," said Ricciardo about how he gets through the time. "That's the most important thing for now. I sit here with Michael, my physio.
"It is still quite warm here, so we can train outside to be ready for the moment we can drive again," he added. "I hope the virus disappears and people recover quickly, so that the world can pick up again and we can race again."
While many of his fellow racers have filled their unexpected free time with a switch to Esports including the official F1 Virtual Grand Prix series, Ricciardo is yet to take a similar step into the virtual arena.
"I haven't really focused on virtual racing yet," he acknowledged. "But I have a few buggies here so I'm rallying to keep myself on my toes. This way I keep my focus and I stay alert."
Neither Ricciardo nor his new team mate Esteban Ocon will be representing Renault in Sunday evening's Virtual Vietnam GP. As the Hanoi track isn't part of the F1 2019 package, it will actually be held at a simulated Albert Park Circuit.
Eighteen-year-old Renault Sport Academy driver Christian Lundgaard will be joined by 24-year-old Virgin Australia Supercars hotshot Andre Heimgartner for the second round of the series.
The race will be broadcast live on Formula 1's social media channels from 20:00GMT, and in the UK on Sky Sports F1.
Gallery: The beautiful wives and girlfriends of F1 drivers
Keep up to date with all the F1 news via Facebook and Twitter